Gingerbread is a pastry known from ancient times. Various Russian cities were famous for their sweet products and gave them their own names: Tula, Suzdal, Vologda, Moscow gingerbread. Such a delicacy can not only be made according to original recipes, but also painted by hand. Try baking your own gingerbread cookies, then glaze them, write on them, or decorate them.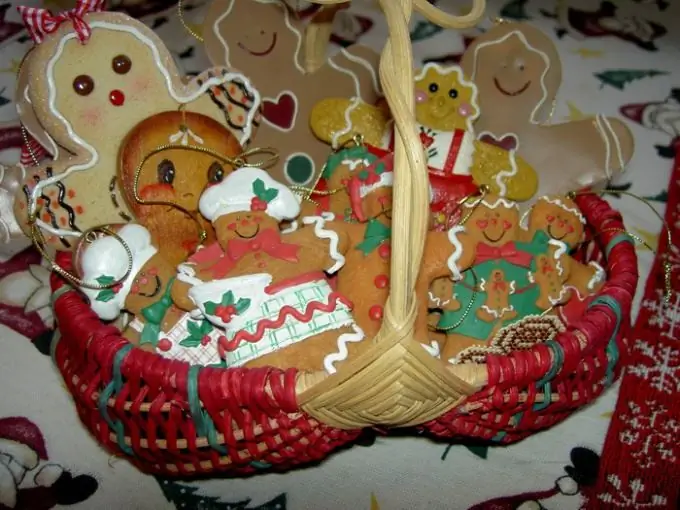 It is necessary
- Bowl;
- wooden spoon;
- tracing paper;
- cocoa;
- cranberries;
- orange;
- beet juice;
- food colorings.
Icing:
- icing sugar - 1 glass;
- liquid - 6 tbsp. l.
Protein glaze:
- protein - 2 pieces;
- icing sugar - 1 glass;
- lemon juice - 1 tsp.
Glaze with starch:
- protein - 1 piece;
- potato starch - 1 tsp;
- icing sugar - 5 tbsp. l.;
- lemon juice - 1 tsp.
Instructions
Step 1
Bake gingerbread. While they are cooling, use one of the recipes for the icing. Also, gingerbread blanks for further scheduling can be purchased from companies specializing in baking.
Step 2
Icing
Grind the sugar in a coffee grinder or use finely ground powdered sugar. Sift it into a bowl through a sieve so that there are no grains.
Pour 3 tablespoons of water and 3 tablespoons of other liquid into the powder. It can be liqueur, dessert wine, lemon juice.
Rub the sweet mass with a wooden spoon until smooth. You will end up with a smooth, shiny frosting.
Step 3
Protein glaze
Separate the whites and yolks from two eggs. Place the yolks in a container with a lid and refrigerate. Use them for other dishes. Place the squirrels in a bowl.
Rub the whites with a spoon and gradually add the powdered sugar. The finished glaze is similar in consistency to thick sour cream. Pour a couple of teaspoons of lemon juice into the mixture and stir well.
Step 4
Glaze with starch
Whisk the protein and starch in a bowl. Add the icing sugar and rub thoroughly with a spoon to smooth the mixture. Pour in lemon juice, stir the glaze evenly until smooth.
Step 5
Divide the finished white frosting into several cups. You will need as many of them as you plan to make.
Step 6
Use natural or food-grade dyes for touch-up. Add food colors as directed on the label. Natural colors can be obtained from vegetable or fruit juices. A bright burgundy color will be obtained when a drop of beetroot juice is introduced into the glaze. Make other red shades with cranberry, cherry, lingonberry juice. The orange color of the white sweet mass will give the juice of an orange or carrot. By adding cocoa powder, you get a brown color.
Step 7
Make a bag of tracing paper. Fill it with the color you want for the design. Cut off a sharp paper spout. Through it, squeezing the cornet, squeeze a thin stream of icing onto the gingerbread.
Step 8
Leave the painted gingerbread cookies to dry in a warm room, spreading them in one layer on a tray.