Handmade candles will not only decorate the interior, but also serve as an original and unique gift for your friends. You can decorate the finished product with embossed or smooth patterns, or, melting wax or paraffin, make a candle yourself. When adding aromatic substances when creating a craft, think about what kind of smell will spread when it burns.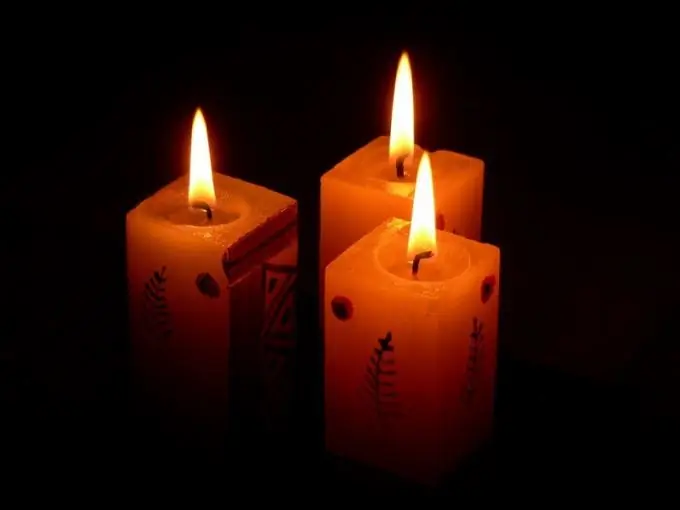 It is necessary
Candle in the glass:
- multi-colored candles or colored paraffin;
- wineglass;
- grater;
- a thin candle.
Candle with patterns:
- candle;
- napkins;
- scissors;
- tea spoon;
- a glass of hot water.
Instructions
Step 1
Candle in glass Wash and dry the clear glass. A beautiful tall glass or a small decanter is also suitable for crafts. You can use a vase or bowl. It is desirable that the base be thick-walled with a sufficiently wide neck. Then it will be convenient for you to work with it, and the glass will not burst when heated.
Step 2
Take some simple colored candles. You can use old and boring or melted ones. Place a large piece of paper on the table. Rub each candle on a fine grater into a separate pile. If you are going to use a large glass craft container, use a coarse grater on the candles. Then the texture will be more interesting. To make it convenient to pour, you can immediately grind each candle on a separate sheet of paper.
Step 3
Place one whole taper in the center of the glass. It can be above or flush with the glass edge.
Step 4
Pour already prepared rubbed wax or paraffin wax into the glass around the standing candle up to the glass edge. You will see colored layers through a transparent glass or glass.
Step 5
Candle with patterns A thick candle is best for decoration. Then the drawing on it will be clearly visible.
Step 6
Get a nice two- or three-layer napkin. Cut out the picture or pattern you need from it. Then pick up the colored layer by the edge and carefully separate it from the rest.
Step 7
Prepare a candle to decorate and a metal teaspoon on the table. The spoon will need to be heated. Therefore, you will need either another candle or a glass of boiling water. If using a candle, hold the concave side of the spoon over the fire. Because soot will appear on the metal, and the pattern on the napkin may get dirty. When heating a spoon in a glass of hot water, wipe the metal with a cloth before use to prevent the cloth from getting wet.
Step 8
Place a napkin blank on the side of the candle. Heat a teaspoon. Press the convex side of a spoon over the picture. The wax will melt, impregnating the pattern, which will firmly adhere to the surface of the candle.