Ahead is summer, a hot season, and how you want something new and light. What could be better for a girl than a new thing? Of course, a new thing, which will not have to spend a lot and which will not only fit the figure, but also the color, the style will be harmoniously combined. The task, at first glance, seems impossible, but such a dress can be sewn on your own.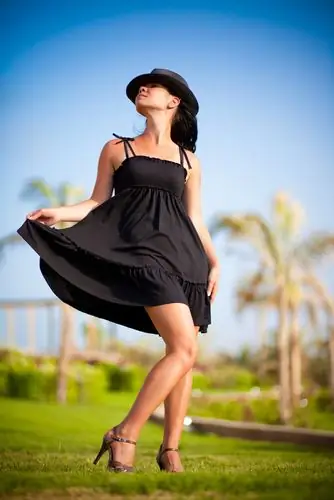 It is necessary
fabric measuring 240 by 110 centimeters (preferably with overlocked edges);
scissors;
a piece of chalk;
tape measure;
threads (to match the color of the fabric);
sewing machine.
Instructions
Step 1
Lay the fabric out in front of you. Fold it in half lengthwise. Thus, the width of the piece will remain 110 cm, length 120 cm.
Step 2
Carefully draw the neckline and cut with scissors (you can make a more or less deep cut, depending on your taste). Machine the cutout.
Step 3
Calculate the armhole on the sleeve (you can focus on your old favorite dress). Sew the rest on a typewriter.
Step 4
Turn right over and iron. When using a dress, complement the image with accessories (strap, jewelry). Your image is unique!