In order to quickly sew a dress, it is not necessary to be a professional dressmaker, it is enough to have the initial sewing skills, to have an idea and a piece of fabric for its implementation.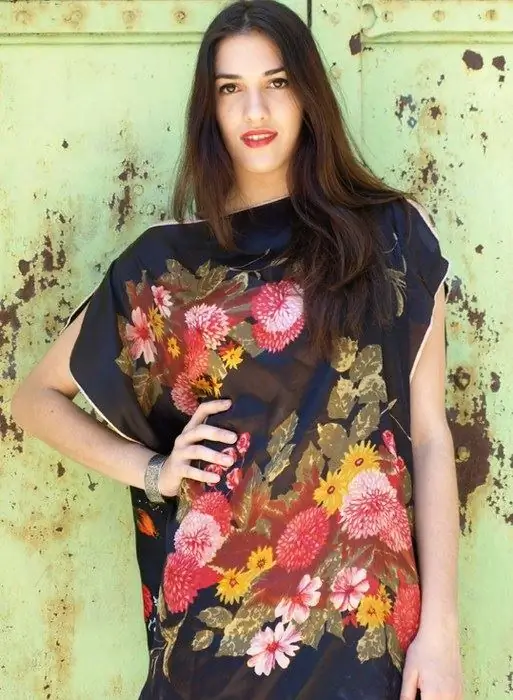 It is necessary
sewing machine, fabric, accessories, crayons, scissors
Instructions
Step 1
You can sew a home or beach outfit in the style of a tunic, an original elegant dress without a pattern. Take a piece of chintz or stretch fabric and lay it out on the table. Measure the length of the garment, set aside on the fabric and cut. If the fabric is 80 cm wide, then you will need two pieces equal to the length of the product, cut the one and a half meter fabric in half along the shared thread.
Step 2
Fold the fabrics with the right sides inward and sew them along the side seams, not reaching the top of 20-25 cm - this will be a sleeve. Sew the shoulder seams, leaving 15-18 cm in the middle for the armhole of the neckline. Iron the seams. Make a freehand cutout on the front half and tape it over. To do this, buy a ready-made stitching in the store or cut out a stitching. The tunic can be worn with a belt or sewn on the seamy side, at the waist or under the bust, a drawstring. Make holes for the entry of the cord in the side seams or in the front. Fold the bottom of the dress 2-3 cm and cut the hem.
Step 3
You can sew an elegant dress from scarves. Measure your chest, hips and back. Take two large silk scarves - fold one scarf in half, set aside the half-girth of the chest and the half-girth of the hips on it from the fold, plus 6-7 cm for freedom of fit and draw a vertical line through the points. On the second scarf, set aside ½ the width of the back and half-girth of the hips plus 4 cm and connect the points with a vertical. Fold the scarves with the wrong sides inward, align the vertical lines, pin them together and sew a stitch along them from the front, leaving an armhole for the arms. Turn the product inside out and stitch along the shoulder seams, leaving the boat-shaped neckline not sewn.