Turban is a famous female and male headdress. To create a turban, a long and narrow piece of fabric is used that is wrapped around the head in various ways. The amount of fabric used is usually 6-8 meters, but some types of turbans take up to 20 meters of fabric. The turban can be independently knitted from yarn.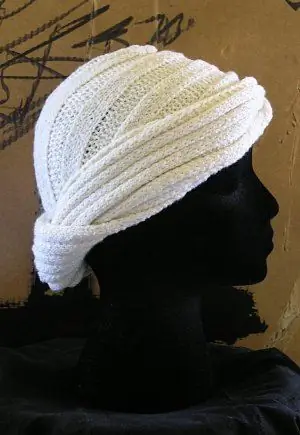 It is necessary
300 g of wool, a set of 2 mm thick stocking needles and a crochet hook
Instructions
Step 1
For the base, you need to tie a rectangle to one larger side so that you end up with a piece of knitted material like a scarf.
Step 2
Cast on 48 stitches. Tie an elastic about 4 centimeters high, starting at 2 knit stitches. Next, start knitting the main pattern.
Step 3
Knit until you reach the desired length, which is slightly longer than double the circumference of the head. Line up and connect one end of the knitted fabric to the other end with a loop-to-loop seam. Use a hook for this.
Step 4
Knit 2 rows in a circle with purl loops, in the second row knit two together every 5 loops. Then 4 rows with front loops without decreases, 4 rows with purl. Decrease the second and fourth rows. Repeat this circular rubber band two more times, decreasing more often in the last rows.
Step 5
The next step is to knit a hat from the middle of the main part. Tie a new thread and put the loops in a circle on 3-4 stocking needles. Make sure that the remaining sections are completely flat against the seam you made earlier.
Step 6
Finish with a circle of purl loops at the top of your head. When there are only 4 of them left, tear off the thread. Pull the loops together and tie.
Step 7
Such a knitted turban can be worn in two ways: make a bud knot (the excess length is spent on creating a knot) and a twist around the head (the excess length is compensated by three twists at the back).