If you love a sporty style and love denim, you will definitely love a bag made from old jeans. You can wear anything in it: from sneakers to A4 folders with documents. The only thing you have to decide on is to part with your old jeans.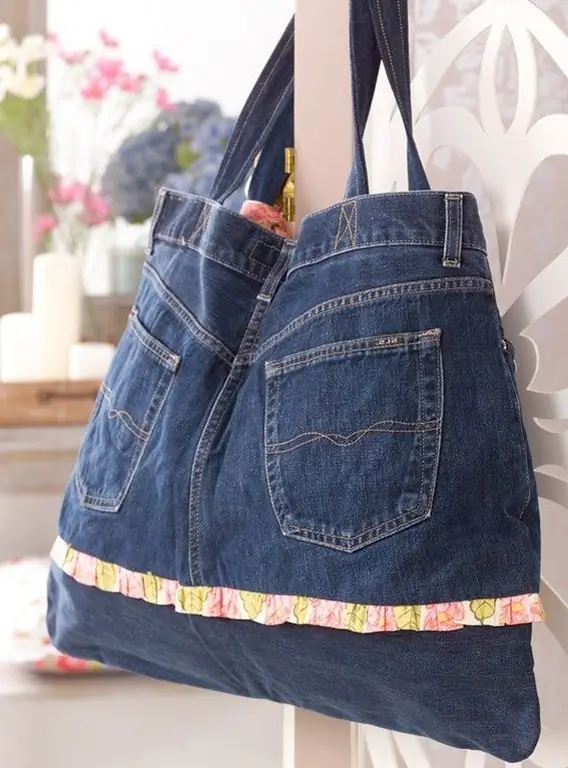 It is necessary
- Jeans;
- details for decoration (patches, ribbons, beads, beads, buckles).
Instructions
Step 1
Take your old jeans. It is not scary if there are tears and abrasions in the fabric - all this can be corrected or even processed profitably, giving the product a special charm. Carefully open the crotch and middle seam.
Step 2
Decide on the size (depth) of the bag. If you are satisfied with a short handbag, you can cut off both legs. If you want to get a bag a little more voluminous, you will have to slightly redraw the product. The depth of the bag will also depend on the condition of the seams in your old jeans. If they are badly frayed or there are gaps in the fabric, the best solution is to cut off the excess fabric.
Step 3
For a short version of the bag, use sharp scissors to cut the legs to leave pockets. Turn the jeans inside out, sweep and machine stitch one seam - the bottom of the bag. For greater strength, you can sew decorative stitching of the bottom seam on the front side with matching threads.
Step 4
For a more voluminous model of the bag, carefully lay it out on the table and mark with chalk the parts that need to be cut to get even parts of the bag. Cut off the legs. Sweep and grind the seams. You should have a kind of skirt. A deep roomy bag requires a separate part for the bottom and sides. Cut the bumpers out of the rest of the legs. Make the width at least 8 cm. If the length of the legs is enough, you can cut out a one-piece piece - the side and the bottom together. Gently sweep the sides and bottom so that the seams are on the front of the bag. Use a needle to twist the threads to create a fringe.
Step 5
Tailor the handles for the bag. You can perform as one handle, sewing it to the opposite sides of the bag, or two, placing them in a standard way. Cut strips of the desired length from the rest of the legs, at least seven centimeters wide. Fold the handle in three and lay a seam along the entire length, at a distance of 1-1.5 cm from the edge of the fabric. With a needle, you can slightly ruffle the free edge to create a fringe, like on the sides of a bag. Attach the handles to the bag.
Step 6
Decorate the finished product. Appliques made from leftover denim, fringe, beads or ribbon will do. A wonderful and original bag is ready.