High-quality jeans, even if they are very worn during the process of wearing, should not be thrown away, as many useful things can come out of them. Shattered knees or split seams are not an obstacle to creating new interesting, and, most importantly, easy-to-make things!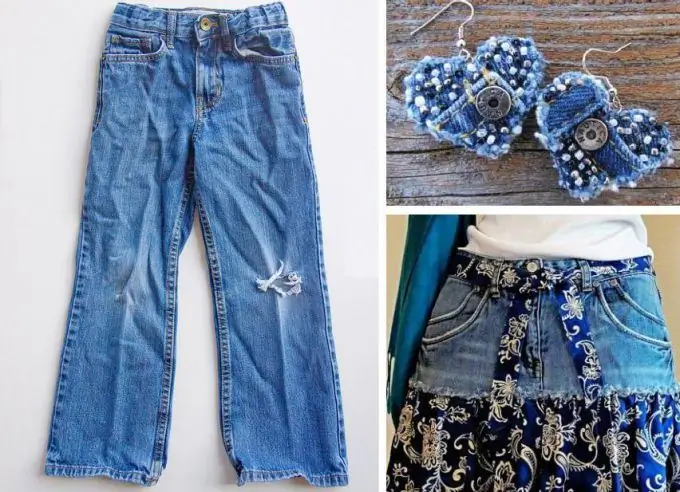 Have your favorite jeans worn to holes in the most unexpected places? Or maybe your jeans are too small or just tired? So, what can be done easily and quickly from old jeans with your own hands?
1. Shorts
Perhaps, it is this thing that is the easiest to perform. To make shorts, simply cut off the leg of your jeans at any height. The only requirement is to measure the height of the future trousers, otherwise the shorts will look strange.
Helpful hint: to prevent the fabric from sprinkling, the bottom of the shorts can be folded and hemmed, however, it is advisable to choose threads of the same color that the manufacturer used when sewing the product.
2. Skirt
To sew a skirt from old jeans, you will have to cut them off (a couple of centimeters below the point where the zipper ends). After that, we sew a hem from any fabric (thick cotton or thin wool, synthetics will do) - and the skirt is ready.
3. Kitchen apron and other kitchen stuff
You can make at least two or even three small aprons from old jeans. I have already considered one of the original models in my article.
Helpful Hint: The scraps left over from sewing an apron, skirt, or shorts can be used to create potholders. Because the denim is thick enough, it won't take a lot of tacking to sew.
4. Shopping bag made of old jeans
From the top of jeans and trousers, it will be possible to carve out at least two shopping bags, which will fit a large amount of food, household chemicals and other useful things for which we usually purchase plastic bags.
5. Cosmetic bag, purse for change
After the shopping bag is sewn, use the remaining shreds and jeans pockets to sew a rectangular zippered cosmetic bag. It can also be used as a wallet.
6. Jewelry from old jeans
You can make brooches and bracelets from scraps of denim, cut out pendants for earrings. You can also sew a watch strap from jeans strips.