Old jeans can be given new life. And it is not necessary to make shorts out of them or send them to a link to the dacha. Old denim can be used to sew a bag.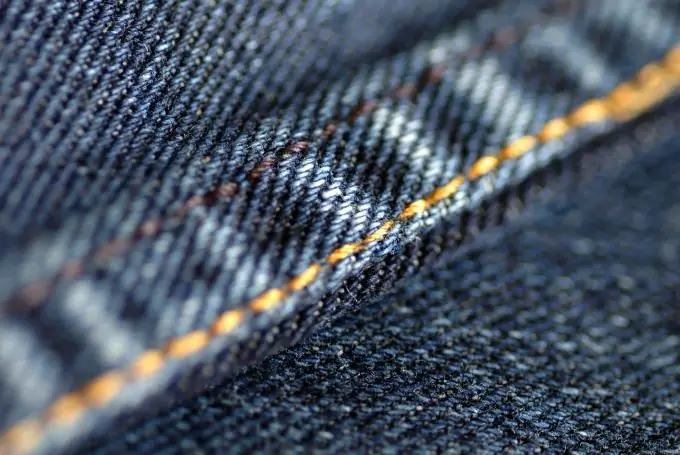 It is necessary
- the cloth;
- scissors;
- threads;
- a needle;
- sewing machine.
Instructions
Step 1
Sew a small clutch bag out of denim to highlight your cocktail or evening outfit. Draw a bag pattern on graph paper. It should be based on a rectangle, the size of which corresponds to the desired size of the handbag. To one of the long sides of the figure, draw another rectangle of the same size - this is the back of the clutch. Attach a quadrangle to the top edge of this part. One of its short sides should be half the size of the second. On the sides of the resulting shape, add two centimeters of seam allowance.
Step 2
Transfer the pattern to the fabric. Cut the outside of the bag out of the jeans. From any fabric that matches the color, cut the exact same piece for the lining. If the jeans are soft and thin enough, the shape of the bag needs to be strengthened. Create a spacer between the lining and the upper with thin foam. Cut this part without seam allowances.
Step 3
From the lining fabric, cut out a pocket for small items or a cell phone. Tuck the top edge and sew. Sew the pocket immediately to the lining of the bag. At the same time, choose a clutch clasp. You can use regular Velcro or buttons. Sew them to the front of the bag.
Step 4
Usually clutches are carried in the hand, but for convenience they are supplied with long handles for carrying over the shoulder. If you prefer a chain on a carabiner, attach two loops to the blank of the outer part of the clutch for which you can hook the handle. In case you chose a fabric handle or lace, sew it directly onto the jeans.
Step 5
Collect all the parts of the bag. Place the denim and lining right sides together. Sew them on a typewriter along the perimeter, stepping back from the edge 1.5 cm. Sew only three sides of the quadrangle, leave the side unstitched, except for the area related to the clutch lid.
Step 6
Unscrew the workpiece and insert the foam rubber inside. Lay the back and front of the bag right on top of each other. Sew on the sides and turn them out.