Flowers are a wonderful element of apartment decor. An interesting interior design can be created by placing plants not only on the windowsill, but also in other parts of the house, using floor stands for flowers.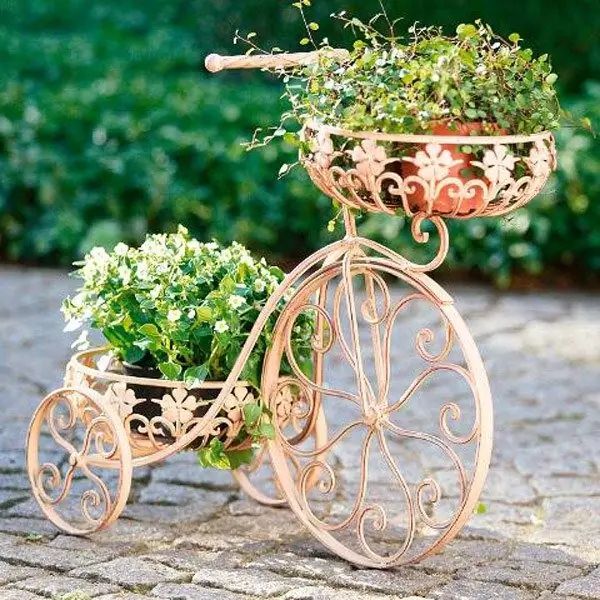 What to make a flower stand out of
Original, interestingly decorated stands will add coziness to the interior, give it a piquant zest. Floor stands can be high and low, wide and narrow, designed for several flower pots and one. The material for the stands is also varied:
- metal;
- tree;
- plastic;
- ceramics.
There is a large selection of ready-made racks in stores, but, having shown imagination, you can adapt worn-out household items and improvised materials for stands. For example, a flower stand can be made from an old ladder by painting it or braiding it with a bright clothesline.
To do this, you need wood glue and a roll of rope. Prime the details of the stairs with white, after the paint dries, coat the racks with wood glue and braid tightly. Then varnish the braid in two layers.
The chair turns …
An unnecessary chair or stool is suitable as a stand for a planter. It is necessary to clean the tree well with sandpaper, paint it in the desired color or decorate it using decoupage technique. To do this, you will need three-layer napkins, a thin brush, decoupage glue, varnish. Separate the paint layer from the napkin, cut out the picture, attach to the element to be decorated, glue the outer layer from the center with glue. When the glue is dry, cover the design with two coats of varnish to protect it from damage.
Remove the seat, place the pot in the formed "nest". A few additional touches in the form of ribbons and a stand will brighten the interior of the room. An interesting result can be obtained by sticking an eggshell pattern on the back of a chair and varnishing it.
It is necessary to take a certain amount of eggshell, peel it of films, dry it and stick it in small fragments, about 5-7 mm, on the applied drawing. PVA glue is suitable for this purpose.
Ideas for decorating flower stands
A beautiful stand can be made from a small table or stool by decorating it with a mosaic of waste (battle) ceramic tiles or by decorating it with flat multi-colored pebbles. The stand made of a rod from a floor lamp looks original, with pots strung on it in the form of a ladder.
An ordinary metal flower stand can be turned into a fabulous tree by decorating it with plywood flowers pasted over with collage-style pictures. An interesting idea for decorating a rack made of metal rods is braiding with paper tubes. Of course, this is laborious work, but the end result is amazing. Cover the braid with an opaque varnish, and no one will guess what your rack is made of.
An unusual beautiful flower stand will allow you to group plants in compositions and serve as a decoration for your home.