Decorative miniature bonsai trees can be a wonderful decoration for both home and office. Growing artificial trees can be quite time consuming. However, any person can make artificial trees with their own hands from natural material.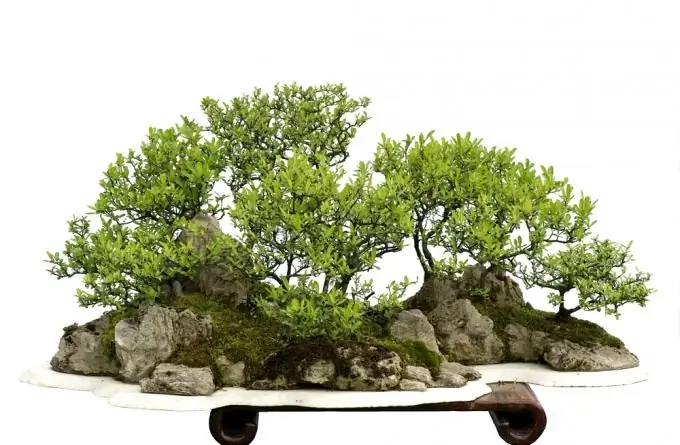 Instructions
Step 1
Bonsai, created by hand, externally practically will not differ in any way from a living tree. But the advantages and advantages of an artificial tree are immeasurably greater: it does not need to be grown for many years, it does not require watering and special care.
Step 2
You can decorate with such bonsai in places in the room far from the lighting. The most important thing is that this pleasure is not worth crazy money.
Step 3
Start creating a handmade masterpiece by finding a suitable driftwood or tree branch. They can be found in the forest or in the park. Do not pay attention to the fact that driftwood with small defects, they can be eliminated in the process of making an artificial tree. So, we have selected the material for the trunk of the bonsai.
Step 4
You should also stock up on green twigs of conifers. Pine, juniper, spruce will do. We cannot do without moss in our art. The reindeer lichen is best suited. Now that the material for the wood has been selected, you can proceed to the conservation stage. Preservation is necessary so that the needles do not crumble during drying, but remain in their original form for several years. Preservation will also help preserve the bright green color of the needles.
Step 5
For chemical preservation, it is necessary to prepare a solution of denatured alcohol, acetone and glycerin in a 1: 1: 2 ratio. The solution must be stored in a tightly closed jar as it has a strong odor.
Step 6
Rinse the sprigs of plants you have collected thoroughly in water to remove dirt. Then place them in the solution for at least a week. The branches should be completely covered with the solution, and not float on its surface. At the end of the treatment, the plants should be rinsed in water. Keep in mind that with such a chemical treatment, not only conservation occurs, but also bleaching of plants. In the future, the twigs are subject to coloring.
Step 7
The processed and washed branches should be hung on the balcony (or in the attic) and dried for at least a week. Glycerin makes plant twigs elastic and prevents needles from shedding. Dried twigs can be dyed.
Step 8
Use oil paints diluted with linseed oil, turpentine or acetone. It is more convenient to process needles with a brush or a spray bottle. To make the paint lay evenly, first dip the branches in hot paraffin. The paint should only be applied to the needles.
Step 9
In addition to branches, driftwood and dried moss, we also need glue and wire. Mounting bonsai takes some skill and patience. As a result, we should get a composition that is as close as possible to a living tree.
Step 10
Cut the branches to length and glue them to the trunk of the tree, which will be the driftwood. Use wire for fastening. Later, when the glue is dry, it will need to be removed. Places that have been processed should be decorated with moss. When mounting your fake tree, keep in mind that the center of gravity of the composition should allow it to be stable in its place.
Step 11
If you were careful and patient, then soon you will see a composition very similar to a living tree, capable of retaining its shape for several years. You will only have to blow dust from your creation from time to time.