The potholders that we buy in the store do not always meet the quality and originality. The best way to get a product of proper quality is to sew the oven mitts yourself at home. And they will serve you for a long time, because you put diligence and love into them.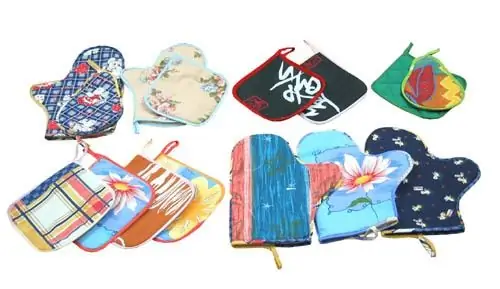 It is necessary
2 squares of fabric measuring 45 x 45 cm, square of thermal wadding approximately 46 x 46 cm or 3 layers - pieces of batting, flannel, towels - each measuring 21 x 21 cm, strip of fabric for edging 355 cm long, 5 cm, thread, pins
Instructions
Step 1
Fold the prepared blank in this way: main fabric, batting, contrasting fabric, wrong side inward.
Step 2
Leave you to protrude half a centimeter. Pin the fabric with pins to keep the pieces from sliding.
Step 3
Sew the pieces together at the same distance, about 5 cm apart. With the right side, attach the edge of the edging fabric with a width of 1, 3 cm to the seamy side of the tack along the entire length. Pin together the edging fabric by joining the edges together.
Step 4
Fold over a 45-degree corner as you pin the edging to the potholder. Sew to the first side 6 mm from the edge. Finally, stop 6mm from the other side, sew a couple of stitches backward.
Step 5
Fold the edge fabric on the tack at a 45-degree angle. To do this, lift the strip of fabric up, then lower it down along the adjacent side.
Step 6
You should have a triangular fold, then start overcasting again.
Step 7
Do the same with the remaining sides. At the end of the work, fold the edging again at a 45-degree angle and hide the end. Trim off excess batting with scissors. Be careful not to accidentally cut the folds at the corners.
Step 8
Cut a piece of fabric obliquely, 12.5 cm wide. Fold the edges of the fabric towards the center of the seamy side inward. Fold in half again. Press and sew along the edge. Pin the made loop to the corner of the tack. Fold over the hem against the contrasting fabric and baste it over the potholder with zigzag stitches.