The comedy and comedy show "Comedy Club" first appeared on the screens of Russian TNT in 2005 and is still being released. Among the actors, referred to as residents, include famous comedians, former KVN members Pavel Volya, Garik Martirosyan, Garik Kharlamov, Timur Batrutdinov, Alexander Revva and others. Many of whom have been married for a long time.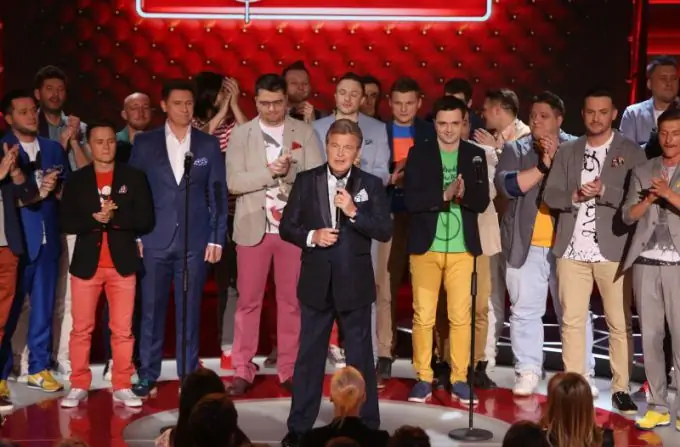 Pavel Volya and Laysan Utyasheva
Lyaysan Utyasheva is a famous Russian athlete, multiple European, World and Youth Games champion in rhythmic gymnastics. At the end of her sports career, she became a television presenter and sports commentator.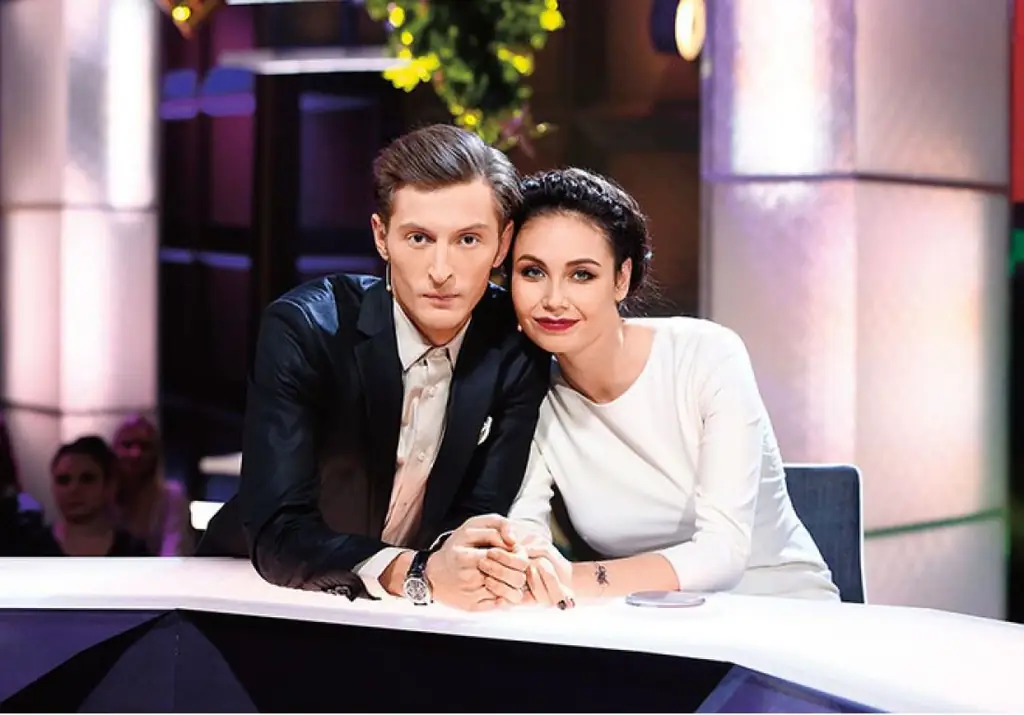 Since 2012, she has been married to Pavel Volya, although they began dating back in 2010. In this marriage, Laysan gave birth to a boy, Robert, in 2013, and a girl, Sophia, in 2015. The birth took place in one of the best clinics in Miami. Under the laws of the United States, their children born in America automatically became its citizens. Both the son and daughter reside permanently in the States.
The spouses themselves live in the suburbs, in a townhouse on the Novorizhskoe highway. Utyasheva is developing the Bolero show, and Pavel Volya is developing the Comedy Club and Improvisation shows. They also have a joint business - the "Willpower" project, dedicated to a healthy lifestyle.
Garik Kharlamov and Christina Asmus
Christina Asmus is the second wife of Garik Kharlamov since 2013. His first wife was Yulia Kharlamova, nee Leshchenko, a nightclub administrator, whose marriage lasted from 2010 to 2012.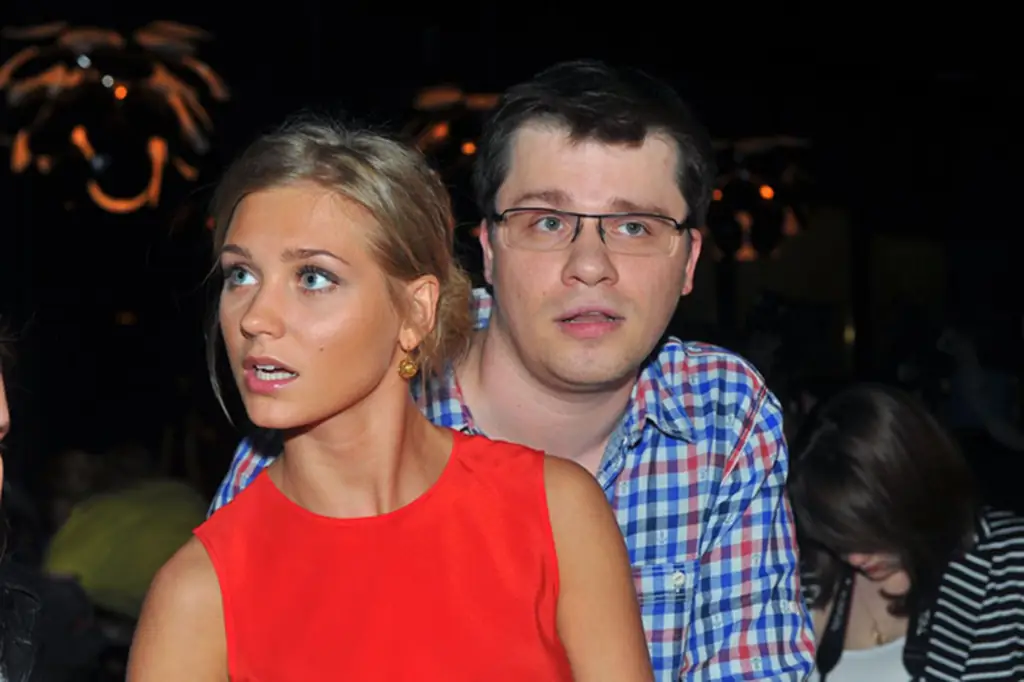 Christina Asmus is a young Russian theater and film actress. The most popular actress brought the role of Vary Chernous in the television series "Interns". In the past, she was engaged in artistic gymnastics and achieved the title of master of sports in it. She graduated from the Shchepkin Theater School. Currently starring in the new series "Hero on Call", plays in the theater Yermolova.
Christina and Garik knew each other long before the beginning of a romantic relationship between them. At the initial stage of dating, Christina did not pay attention to the showman, and he was still married. But subsequently, correspondence began between them on social networks, then meetings, and so on.
In 2014, a daughter, Anastasia Kharlamova, was born to Garik and Christina.
Garik Martirosyan and Zhanna Levina
Zhanna Levina is a lawyer; she and her husband live and work in Moscow. The future spouses met in Sochi at KVN back in 1997, when Garik came to participate in the festival as part of his team, and Zhanna was a fan of this particular team. A romantic relationship between them began only a year later in 1998. In the same 1998, they registered an official marriage.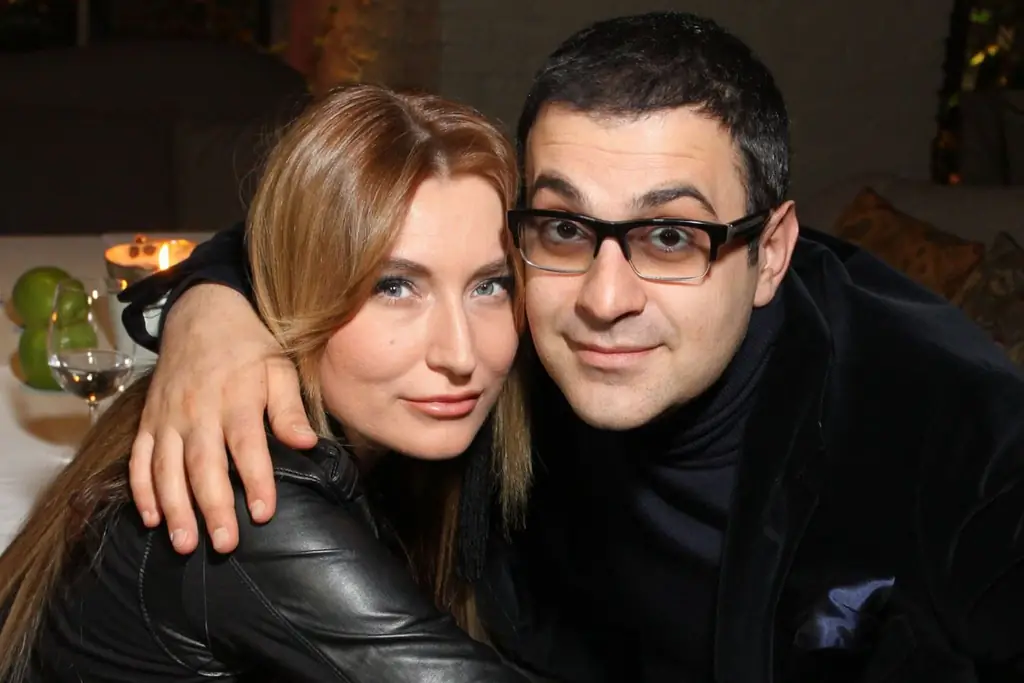 In those years, Zhanna lived in Stavropol, her hometown. Garik had to fly on a date on an airplane. But a few months later, Garik asked for her hand and heart, and then took her to Moscow.
During the marriage, two children were born: daughter Jasmine (2004) and son Daniel (2009).
In 2018, Zhanna released her own book, The Diary of the Comedian's Wife.
Alexander Revva and Angelica
Angelica Revva has been the wife of Alexander Revva since 2007. Alexander and Angelica met in a nightclub. Angelica was dancing with her friends, and Alexander noticed her. When the girl was about to leave, the future spouse got ahead of her and on the street agreed with the driver of the limousine who happened to be nearby. In this limousine, he drove his friends home and met Angelica.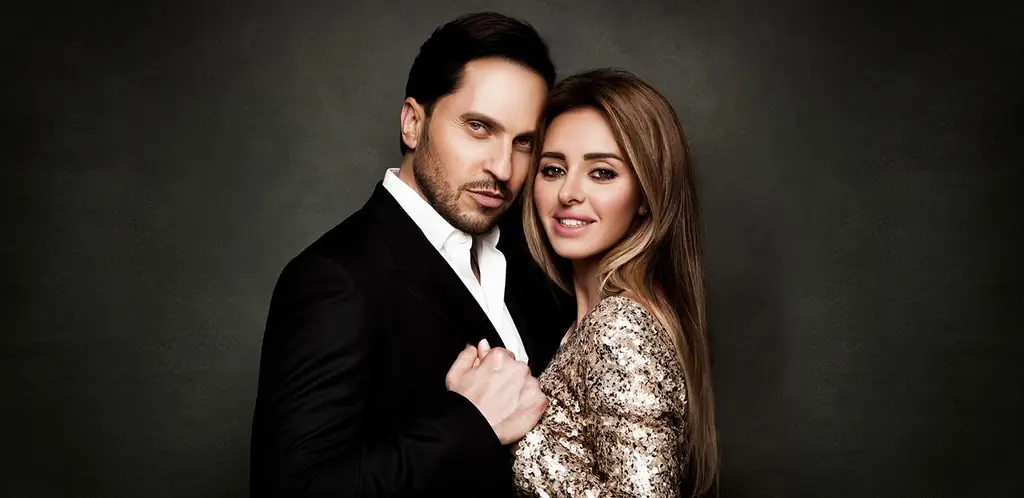 Angelica has a higher education in tourism and hotel business, she speaks 5 foreign languages fluently, but does not work anywhere, completely devoting herself to her husband, home and children. In the marriage of Alexander and Angelica, two daughters were born: Alice and Amelie. The plans for the near future are the birth of another baby.
Semyon Slepakov and Karina
Karina Slepakova has been the wife of Semyon since 2012. Slepakov's wife is a lawyer by profession. The newlyweds played the wedding in Italy. The details of their acquaintance and personal life are kept in the strictest confidence from journalists and reporters.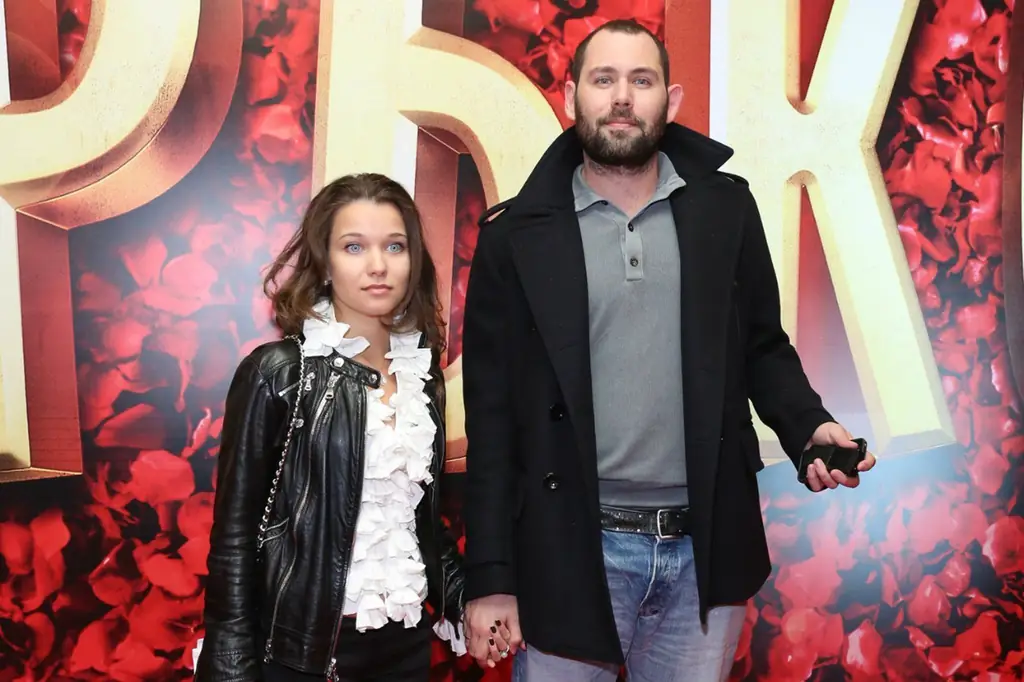 Karina categorically refuses to give any interviews and never appears in public without her husband.
Vadim Galygin and Olga Vainilovich
Olga Vainilovich is Vadim's second wife. The first is Daria Ovechkina, a Moscow fashion model, with whom they lived for 7 years and divorced after Daria exchanged Vadim for an unknown man from Odessa.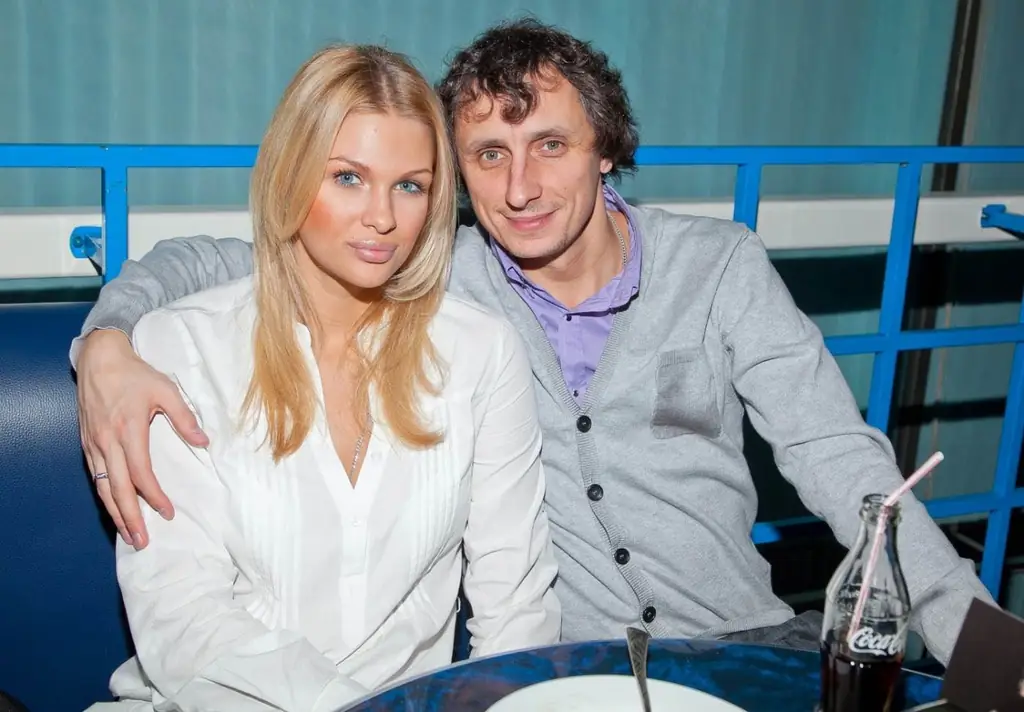 The second wife Olga Vainilovich used to be a Belarusian singer and model, the lead singer of the Topless group. For Vadim, Belarus is also his home country. Olga and Vadim met at a party in Minsk during a short vacation of a Comedy Club resident. The wedding of the newlyweds took place in a closed restaurant in Minsk in an atmosphere of strict secrecy from the media. Immediately after the wedding, Galygin's wife decided to leave her career and deal only with raising their common son.
From his first marriage, Vadim has a daughter, Taisia, from the second, the son of Vadim Galygin Jr.
Sergey Svetlakov and Antonina Chebotareva
Julia became the first wife of Sergei Svetlakov. At the time of the wedding, the newlyweds were both students and had just moved to Moscow. Like many student marriages, this one did not last long and in 2012 the couple divorced.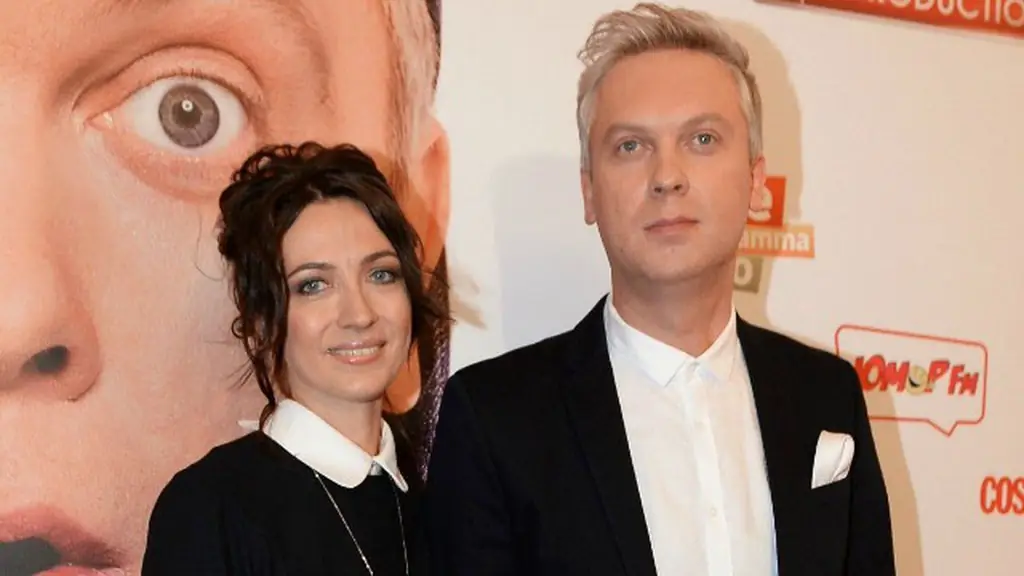 The second marriage with Antonina Chebotareva took place almost immediately after the end of the first.
Sergei has several children. From her first marriage, daughter Nastya 2008. From the second marriage - two sons Ivan (2013) and Maxim (2017).
Mikhail Galustyan and Victoria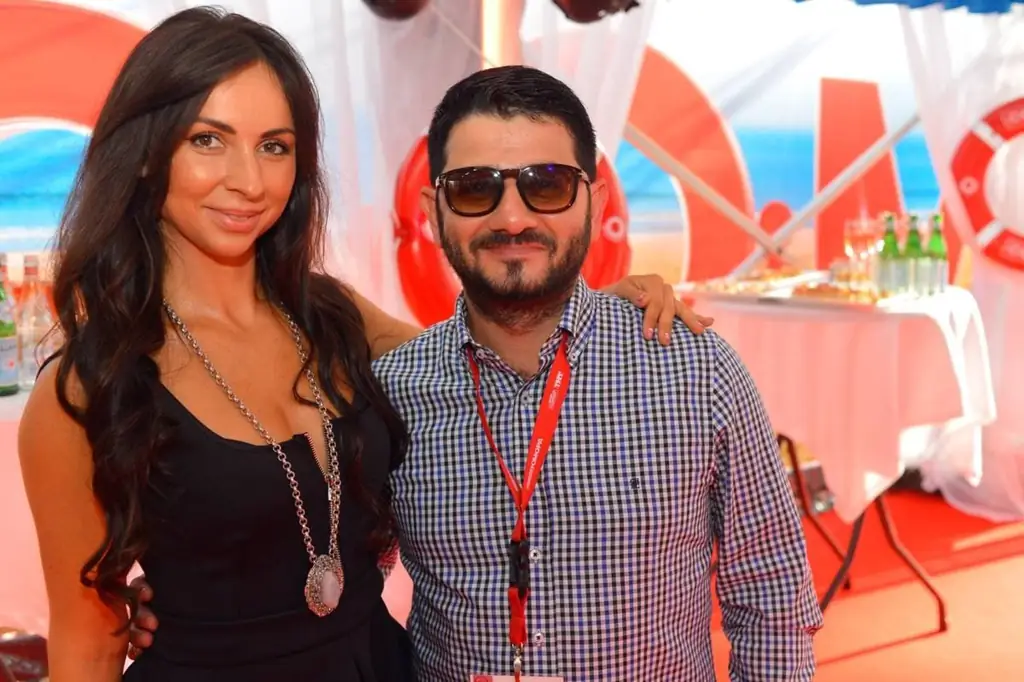 Victoria Shtefanets (Galustyan) is an accountant by education, a graduate of the Kuban State University, the daughter of wealthy parents. She met Mikhail at the age of 17. In those years, Galustyan was not yet a famous comedian. Since 2007, she agreed to become Misha's wife, and then bore him two daughters: Estella in 2010 and Elina in 2012.