The summer is over, we all came from vacations. Well, vivid memories of fabulous travels can be captured not only in photographs, but also in jewelry, for example, in such a simple necklace that can be made in literally 5-10 minutes.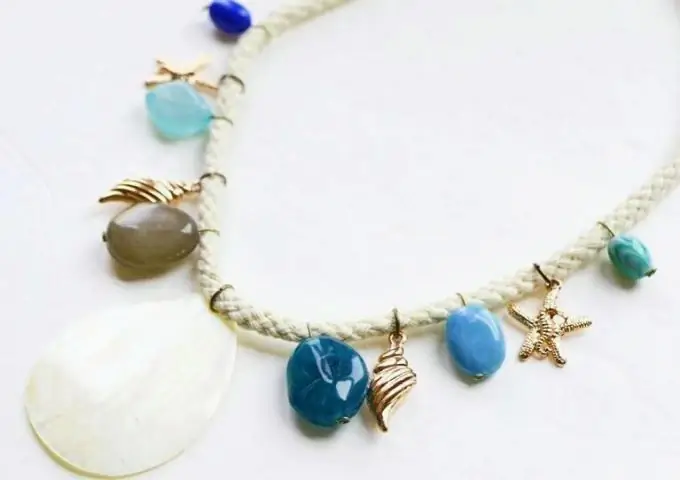 Where did you go this summer? Have you vacationed at the sea or visited one of the city-museums? Or maybe we went to relax in a small town in our homeland, saw relatives, fished or went to the forest? Memories of any vacation can be embodied in homemade jewelry, for example, a necklace (especially if from the trip you brought a small shell or an interesting pebble that you can use as a pendant).
the base for the necklace (a thick cotton cord with a clasp - it can be purchased separately, but then you will have to buy a small clasp-clasp), small connecting rings, fancy-shaped pendants, pins.
Choose pendants depending on which idea you want to implement - shells and pieces of coral to create an atmosphere of relaxation at sea or beads made of ornamental stones to imitate garden berries. Also pay attention to metal pendants, which are presented in a variety of assortment of shops for needlewomen. Among them you can find metal anchors, carved beads with classic patterns, funny pendants in the form of cups and spoons, houses, etc.
Attach a connecting ring to each hanger. Place the plastic or natural stone beads on the pins and use small round-nose pliers to wrap the tip of the pin into a ring.
Distribute the pendants on the base for the necklace. The rings should go very tightly into the cord, if they are not, bend them slightly so that the pendants do not slip.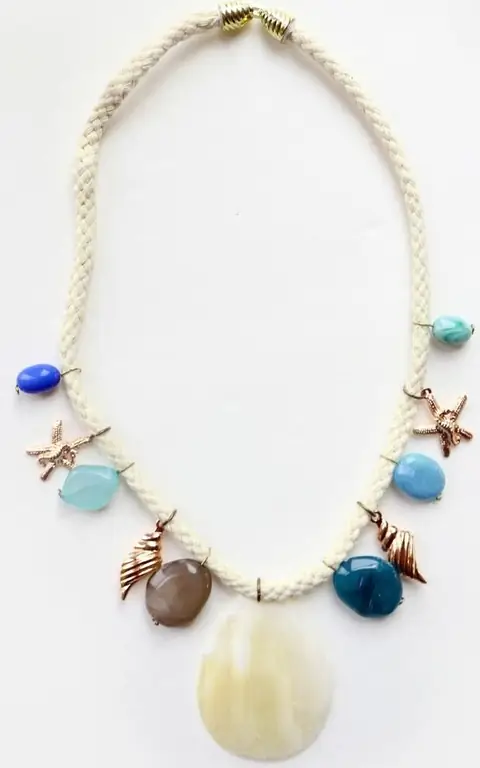 Such a necklace is perfect for wearing it with informal things, for a walk or a gathering with friends.