Making such a thick beaded cord is as easy as shelling pears, even if you don't know the techniques of beading.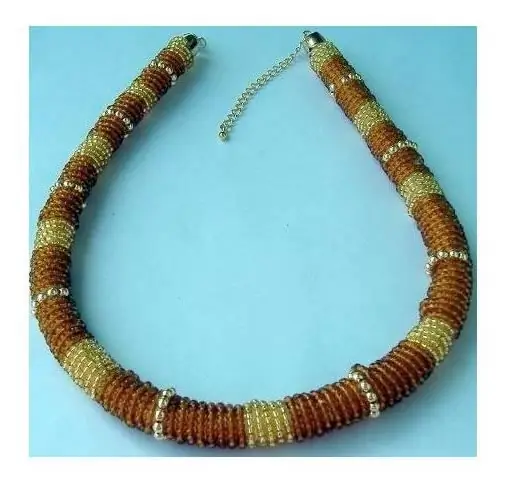 To create such a necklace in the form of a thick cord of beads, you will need beads (the amount depends on the length of the cord and the size of the beads, so it is better to take with a margin, in extreme cases it will be useful for other crafts, finishing clothes), thin threads in the color of beads, a needle for beads, thick cotton round cord, fastener, decorative elements to the fastener, glue.
Beaded necklace making process:
1. Cut off the cotton cord to the length of the future necklace.
Attention! It is important that the cord is not flat, otherwise such a necklace will simply not work.
Drop glue on the ends of the cord so that the cord does not unravel, or wrap the end with duct tape.
2. Fasten the bead thread at the beginning of the cord, string the beads onto the thread and wrap the cord with this bead thread so that the base cord is not visible between the beads.
If you want to get not a single-color beaded cord, but a multi-colored one, string the beads according to the pattern you want, for example, make the string striped, stringing beads first of one color, then another, then a third every 10-20 or 30 cm.
Where the beads of the next color ends, pass the needle through the cord so that the needle passes between the second and third beads from the end of the color, then pass through the second and first beads from the end towards the first.
In this way, wrap the entire cotton cord with the beaded thread.
3. Glue the decorative caps to the ends of the cord. Attach any fastener or thin ribbon to these decorative elements with a ring.