Do you have a lot of old unnecessary dishes and all sorts of little things? Do not rush to throw it all away! They can come in handy in order to use them as a candlestick under a candle that you make yourself.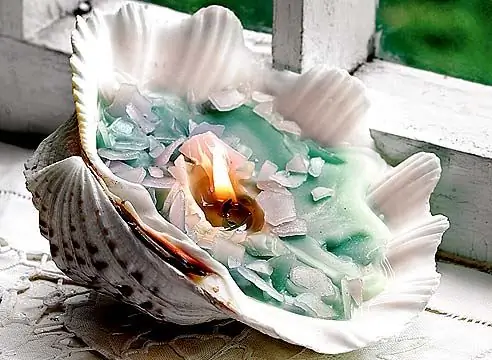 It is necessary
- a container for a candlestick;
- paraffin;
- thin rope;
- wire;
- scissors.
Instructions
Step 1
Before you start making a candle, you need to choose a suitable container for a candlestick from old unnecessary things. It must certainly be made of non-combustible and durable material. For example, a large sink will do just fine. In other words, here the choice is only yours.
Step 2
After the container is selected, you should put the paraffin in a saucepan and melt it in a water bath. Please note that paraffin is practically not washed off. Therefore, for this procedure, you need to use dishes that you no longer need.
Step 3
Then take a thin rope, not necessarily synthetic, and cut a piece of the required length from it. The resulting piece of rope should be tied to a wire, and then dipped into melted paraffin. Keep it there until it is completely saturated with it. This will create a wick.
Step 4
The rope soaked in paraffin must be lowered into the center of the prepared container. In this case, you do not need to untie the wire, since it will hold the wick. Then begin to carefully pour the melted paraffin into the same dish. After this procedure, the candle must be completely cool. As soon as this happens, cut off the excess tip of the wick so that only a small piece of it is 1 centimeter long. The decorative candle is ready!