Embroidery is a special kind of needlework, so loved by many. During this activity the soul rests. You can embroider pictures, napkins, towels, tablecloths and much more. I want to share with you my idea - to embroider a pillowcase on a pillow. I was embroidering it, waiting for the birth of my baby. Maybe expectant mothers will also like this idea.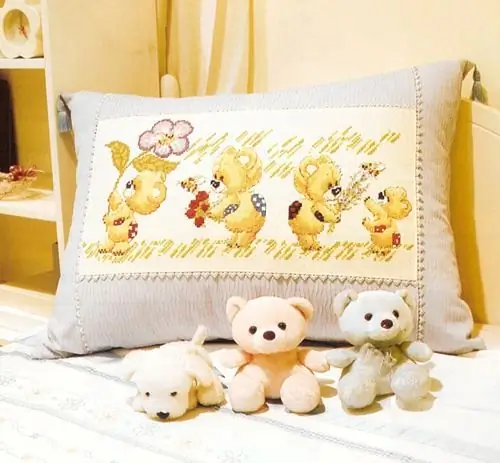 It is necessary
ready-made embroidery kit or canvas, embroidery threads, needle, scheme
cotton fabric
lightning
sewing thread
scissors
needles or pins
sewing machine
Instructions
Step 1
Choose the pillow you want to sew the pillowcase on. Measure it. This pillow is small - dimensions 30 * 40.
Step 2
If you buy a ready-made embroidery kit, then you need to choose one in which the canvas would be approximately the same size as the pillow, but a little larger is better. If the embroidery is from a magazine, then cut out a piece of the size you need from the canvas and overcast it (so that the edges do not sprinkle during embroidery).
Step 3
Embroider the picture of your choice on the canvas. In my case, it was a picture on a children's theme.
Step 4
Put the finished embroidery on the cotton fabric and carefully outline the contours with a pencil along which you can cut the back wall of the future pillowcase.
Step 5
Cut out a piece of fabric of the required size along the contour.
Step 6
Lay the canvas face down on the cut fabric. Before sewing them, you need to fasten the 4 corners with pins or needles so that neither the canvas nor the fabric moves during sewing.
Step 7
After the corners are fixed, you need to baste the fabric in a straight line in one thread with long stitches from three
parties. Leave the fourth untouched (there will be lightning). We don't fix this thread anywhere. After the pillowcase has been sewn, we will freely pull this thread.
Step 8
Now our pillowcase can be sewn on a typewriter from 3 sides.
Step 9
Let's get down to lightning. Turn the pillowcase to the front side. First of all, you need to make sure that the zipper matches the length of your pillowcase. Attach the zipper to the seam so that the teeth protrude slightly. Now it also needs to be swept. Then sew on a sewing machine.
Step 10
Lightly wash the finished product from the seamy side in warm water by hand, you can add laundry soap; dry and iron also from the wrong side. Put it on a pillow and enjoy the result of your work.