Despite the large selection of products in the store, the thing that you create with your own hands will always stand out. Ordinary gift items such as champagne and candy can be presented in a completely extraordinary way by assembling them in the shape of a pineapple.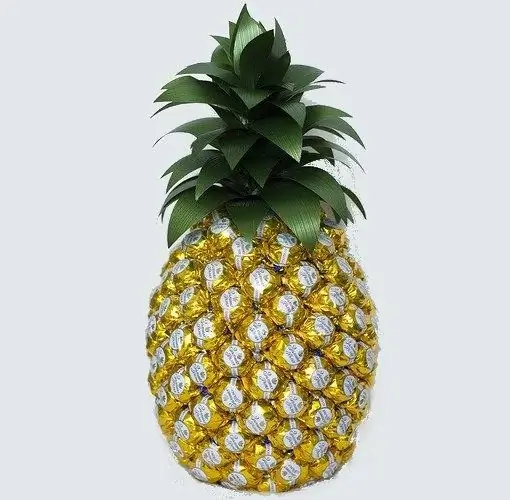 It is necessary
- a full bottle of champagne;
- candy;
- hot glue gun;
- green and yellow paper;
- Double-sided tape;
- scissors.
Instructions
Step 1
Fold the colored green paper with an accordion about 3 cm wide. Cut 5 pieces of 10 cm long with a pointed edge in the amount of 5 pieces, then make another 5 pieces 15 cm long from another accordion. They should resemble long and narrow pineapple leaves.
Step 2
Glue them together. First put all the long leaves in a row and glue a strip of double-sided tape to them, placing it on the bottom of the blanks. Turn the prepared decoration over and stagger the shorter leaves with a hot glue gun.
Step 3
For a more naturalistic production of pineapple leaves, you can use a special floristic ribbon, which resembles an aspidistra leaf in a pattern and is very suitable for decorative work.
Step 4
Wrap a bottle of champagne in green paper and secure it with paper or clear tape. It is more convenient and cheapest to use either corrugated paper or thin wrapping paper. This moment can be omitted altogether, only then the candy will have to be torn off the bottle itself.
Step 5
Cut yellow or green paper into squares, about 8x8 cm. Thin translucent paper, which can be found in art stores, will look beautiful. If the candy wrappers have green designs, use yellow or orange paper. If the candy wrappers are only yellow, use green paper.
Step 6
Glue the candy in the center of the square. Look for candy that is either a ball or a hemisphere in shape. If the sweet shell consists of hemispheres, then glue them on the squares of paper with the flat side.
Step 7
Fold the edges of the square towards the top of the candy, apply glue to the paper, and attach the candy to the bottle. Start working from the bottom of the bottle, placing the candies in a circle, close to each other. Glue the next row in a checkerboard pattern.
Step 8
Stop when you reach the neck of the bottle. Wrap it with a prepared strip of green leaves, sticking them to tape. Wrap the junction of the sweets with green leaves with twine or ribbon.