A good camera is not the key to an expressive shot. After all, it is just a tool in the hands of a person. When trying yourself as a photographer, do not forget that in order to take a beautiful picture, you need not only inspiration, but also adherence to some rules.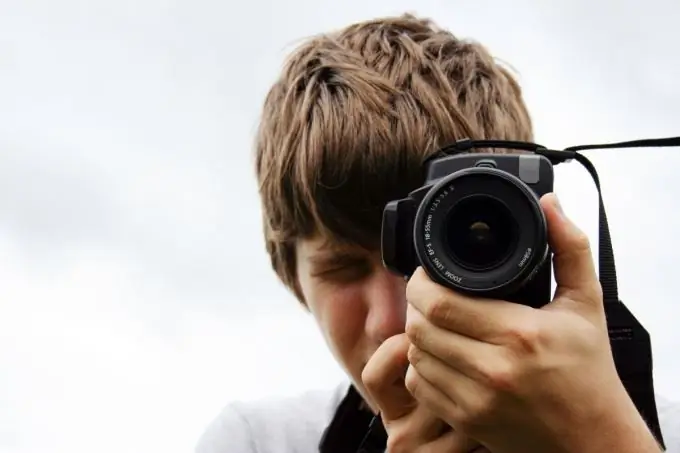 Instructions
Step 1
Start with theory. It is not uncommon for a novice photographer to purchase their first serious camera and just flip through the operating instructions. This approach can cause many disappointments, because it is much more difficult to identify all the possibilities of a miracle technique empirically. So please be patient and read the instructions cover to cover to learn how to control exposure, depth of field, shooting modes, and different types of lighting.
Step 2
Follow the rule of the golden ratio. This rule is the basis of the composition of the photograph. Divide the frame into nine parts mentally, dividing it with two vertical and two horizontal lines. Objects are best perceived by the eye if they are located either along lines or at their intersection points. For example, the horizon line can be positioned in the lower or upper third of the frame, depending on this, the sky or the earth will come to the fore in the composition. Of course, the location of the subjects of photography depends on many circumstances, but the main thing is to take them away from the center of the image on the line of the golden section.
Step 3
Use guide lines. They are almost always present in the frame. A guide can be expressed explicitly, for example, in the form of a road stretching towards the horizon, or maybe a conditional line that can be drawn with a glance. Using this technique can help to add dynamics to a photo, emphasize a plot, or focus on a particular subject, for example, a building to which a road leads.
Step 4
Prefer close-ups. Try not to photograph at a great distance from the subject. Too much free space remains in the picture, the desired accent is lost. At first, try to shoot close-ups - such shots are more expressive. Use the macro mode to shoot plants, insects, flowers.
Step 5
Do not allow the subject to blend in with the background. The world around us consists of three-dimensional objects, while photography is a two-dimensional image. Therefore, there is a risk that the background and foreground in the captured image will appear as one whole. In order not to spoil the frame, keep an eye on the ratio of the subject and the background. Otherwise, you can get a ridiculous picture, for example, of a tree growing directly from a person's head. If this happens, change the angle or ask the model to take a few steps to the side. Also, avoid photographing people with backgrounds that blend in with their clothing.