Carpets bring warmth and comfort to our home. Agree, not everyone can afford to buy such a thing. I suggest you make a soft and beautiful rug out of pompons. It's easy enough to do.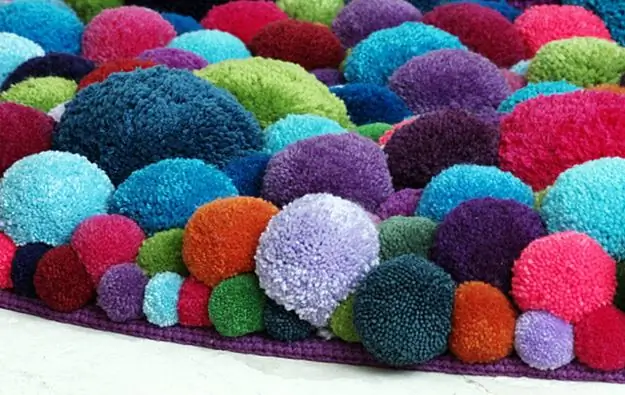 It is necessary
- soft construction mesh with large cells;
- multi-colored yarn;
- scissors;
- crochet hook;
- cardboard.
Instructions
Step 1
First of all, you need to decide on the size and shape of the future rug. If this is done, then we cut off the required amount of the building mesh. By the way, it is inexpensive.
Step 2
It is better to process the edges of the mesh immediately. This can be done using both a bias tape and the rest of the fabric. Simply sew the first or second material over the edge of the rug.
Step 3
Making pompons. We draw two circles of the required size on cardboard, and then cut them out. Now you need to cut out the middle in the resulting parts. It turns out 2 "wheels". We connect them together, we tie the yarn and start winding it, evenly distributing it over the entire circle. At the end of this process, the thread is fixed. We take scissors and begin to cut the resulting "skein" of yarn exactly in the middle, that is, where the pom-pom bases are connected. So the thread is cut. Cut off a piece of the same thread and tie the pompom between the circles. After that, you can remove the cardboard. One pompom is ready. So you should make the right amount of details. If something is suddenly unclear, then you can watch the video on YouTube.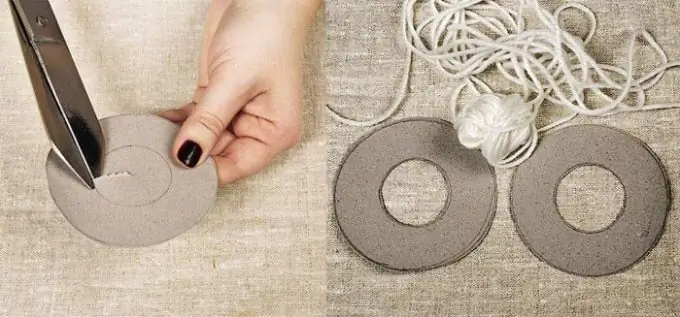 Step 4
Pull the rest of the thread from the pompom through the mesh with a hook on the wrong side. The first and second piece of yarn must be tied together with simple knots. Thus, we have secured the pompom. We do the same with the rest of the details. As a result, we have a wonderful rug!