Often, when soldering, it is necessary to clean the mounting holes on the board from the solder. Experienced electronics engineers have mastered various techniques to help them cope with this problem. But the beginner will have a huge problem with how to do this. The main problem is that if you hold the soldering iron at one point for a long time and try to free the hole from the solder, you can damage the critical parts located on the board next to the hole.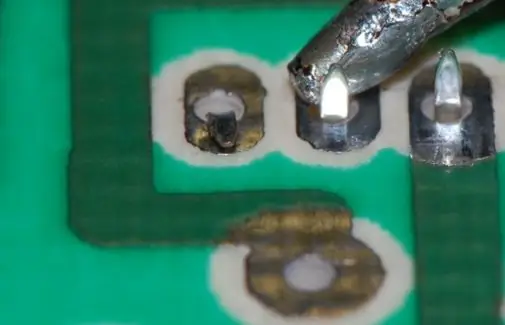 There are several ways to solve this problem. But we will consider the simplest one. We need a paper clip without plastic lining and not painted, as well as rosin.
Before you start working, it is necessary. If "clean" soldering is to be done, and the soldering iron has been used for a long time, then you need to clean it with a file. Often carbon deposits appear on the soldering iron, which prevents them from neatly soldering and collecting excess solder. File the tip of the soldering iron and prepare the device for work.
First of all, let's try to collect the remains of the solder with a hot soldering iron. Two factors are usually important here - a clean sting and the presence of rosin. We just cleaned the sting, but the rosin needs to be applied to the sting before soldering. Therefore, as soon as the soldering iron warms up, touch it to a piece of rosin and apply a little resin to the tip of the tip. Now, with a neat and short movement, touch the mounting hole on the board. The soldering iron must be held in one point exactly as long as necessary so that the excess solder melts. Now let's remove the soldering iron. If we have that very simple case, then the hole will be cleaned, and the excess solder will remain on the tip.
If this does not help, you will have to use a more radical method. Repeat the above process, including cleaning the tip with a file. Only now, additionally prepare a metal clip for work. When we warm up the mounting point with a soldering iron, the paper clip must be carefully inserted from the back into the hole and cleaned of solder. Taking care not to overheat the board, push the solder apart and clean the mounting hole. There is a danger here that the paper clip will be soldered into the hole. But if this happens, it is enough to warm up the paper clip itself with a soldering iron and carefully remove it with pliers.
In some cases, it helps a lot to wind the wire from the paper clip on the tip and soldering iron. This is especially useful if you are working near ICs that do not take overheating very well.