Tom Hooper's historical film The King's Speech tells us about King George VI of Great Britain and his struggle with speech impairment. This masterpiece of cinema, released in 2010, immerses us in the atmosphere of the 30s of the XX century. The filmmakers had a difficult task - to show the audience the London of almost a century ago, as well as to recreate the royal apartments.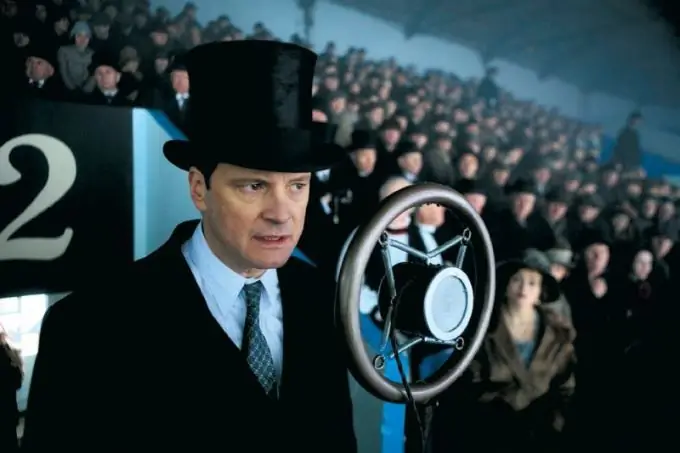 The lion's share of the success of historical films depends on how accurately its creators managed to convey the atmosphere of the time about which the narrative is going. The events of the film "The King's Speech" took place in the 30s of the XX century at the height of the Great Depression. The first scenes of the film were filmed in Southwark, south London. For the filming of the film, the directors transformed an entire street. Huge advertising posters of products of that time and even calls to join the fascist party were hung on the walls. The streets were covered with gravel and the buildings were covered with soot. In those years, the smog in London was so thick that drivers lost their way. In order to recreate such smog, the directors pumped so much artificial smoke into the air that fire alarm sirens began to howl in nearby stores.
Scenes at Westminster Abbey were filmed at Ely Cathedral. Initially, the shooting was planned to take place in the abbey itself, but permission from the authorities was not obtained. Westminster Abbey is one of the main attractions in Great Britain, so the authorities did not consider it possible to close the premises for tourists even for a couple of days. Ily Cathedral is very close to the abbey in its architecture. In addition, thanks to the impressive size of the building, the operators managed to film not only the coronation, but also the preparation process for the ceremony.
Scenes at Buckingham Palace were filmed at Lancaster House, a government building in the city center. The building cost £ 20,000 a day to rent. The 1936 Heritage Council, held at St James's Palace, was filmed at Drapers Hall, a building with ancient architecture. The richly decorated and spacious Liveri Hall of this building perfectly matched the solemn occasion - the ascended monarch was surrounded by flags and images of his predecessors on the throne.
The very first scene of the film, the closing ceremony of the British Empire Exhibition at Wembley Stadium in 1925, was filmed at Elland Road Football Stadium and Odsal Stadium. The film crew made the stands with inflatable "dolls" interspersed with the crowd, dressed in the clothes of the time.
The last scenes of the film were filmed in the rooms of the BBC. The shooting of the historical drama ended on August 31, 2010. After the release of the screens, "The King's Speech" received the most flattering reviews from film critics and was awarded an Oscar in four nominations.