Watches are an important subject in today's fleeting life, full of events that replace each other very quickly. Therefore, buying a watch is a must for many. When buying a watch, sometimes you may find that the bracelet on them does not quite fit in size. If it is small, you do not buy this watch, and if it is too big, there is no need to deny yourself a purchase. You can ask to adjust the bracelet here or in the watch workshop. But there is an opportunity to do it yourself.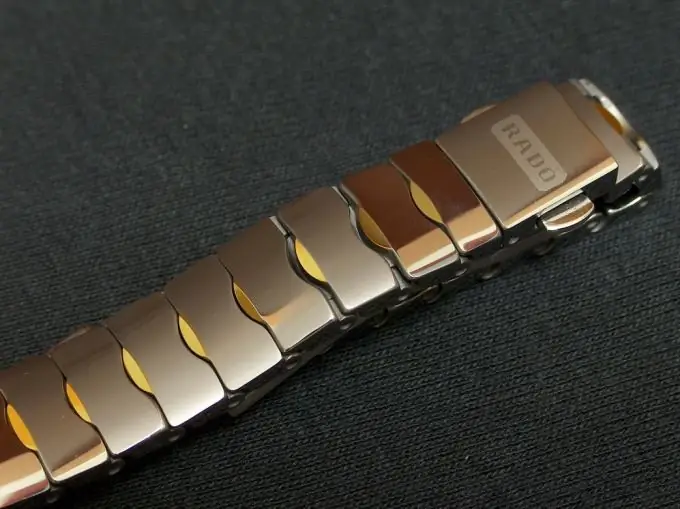 Instructions
Step 1
One way is to remove the extra links from the bracelet. If the links of the bracelet are pin-connected, you will need the following tools: awl, holder, pliers, and hammer. Clip the bracelet into the holder. Using an awl, push out the bracelet link pin. If the pin does not yield right away, gently use a hammer to help it. Pull the pin out with pliers and remove the disconnected section of the bracelet. After you have removed the required number of links, use a pin to connect the gap.
Step 2
In order to remove the links from the bracelet, in which they are connected in a sheet type, you will need the following tools: pliers or tweezers. Use tweezers to push out the link sheet connector. Then pull it out using pliers. Disconnect the extra links and, by inserting the connector into place, assemble the bracelet.
Step 3
In order to remove the extra links on the bracelet, where they are lock-connected, you will need a calibration tool. Remove the tie bars from the lock. Grip the bracelet firmly with both hands close to the clasp you just detached, push the bracelet parts up and down and you will feel the links separate. Continue to gently press down on the links while turning them to the side in order to finally release the lock. Once you have loosened the fastening mechanism, pull the bracelet down to disassemble the links. Carefully spread the disconnected links to the sides. Reassemble in reverse order.
Step 4
Perform all actions for disassembling and assembling links slowly and carefully. This is a necessary rule so that after your attempts to adjust the length of the bracelet it does not have to be thrown away. The materials from which the bracelets are made, as a rule, are quite strong, but the connecting elements are very capricious, since in the manufacture of bracelets it is not assumed that they will be dismantled.