Top is a versatile piece of women's wardrobe. Depending on the material used to make it, the top can be home or beachwear, you can get an urban version or even an evening outfit. The top goes well with skirts, shorts and trousers. It also looks great in an ensemble with a tunic, jacket or light coat.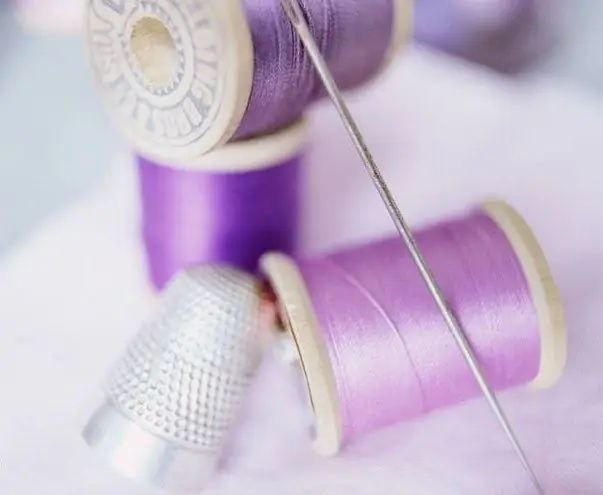 It is necessary
- knitted fabric;
- sewing accessories.
Instructions
Step 1
Sewing a top with your own hands will not be difficult even for novice dressmakers, since it refers to clothes without a pattern, that is, the marking of parts is carried out directly on the fabric without making a preliminary drawing.
Take a rectangular piece of knitted fabric, the width is equal to the volume of the chest or 3-5 cm less, as the fabric stretches, and the top will fit snugly around the figure. The length of the cut should be equal to the length of the finished product, plus 2 cm for the hem of the bottom edge and 2 cm for the finishing of the top.
Step 2
Fold the fabric in half lengthwise with right sides and sew. You will get an even "bag" without a bottom.
Step 3
Select a seam placement. If it is supposed to be on the side, you can pick up the fabric a little by pulling one thread of the stitch, then a small drapery will appear on the side. If the seam is supposed to be on the back, you can not finish it to the very bottom of 5-7 cm, you get a flirty cut in the back and a loose fit of the hips.
Step 4
Hem the bottom hem. Fold over 2 cm on top and sew. You will get a drawstring where you can insert an elastic band or elastic band.
Step 5
Take two strips of the main fabric 40-45 cm long and 4-5 cm wide - these are the future straps. Fold each right in half lengthwise and sew. Turn it out there.
Step 6
Sew on the straps at the front at chest level, and on the back - a little closer to the center, then they will not fall off. You can sew one strap, which is sewn in the form of a loop in the center of the front and worn around the neck.
Step 7
If the top is for evening wear, you can decorate it with rhinestones and lurex thread. If the top is youthful for walking, appliques or embroidery will look good on it. If the top will be used as a bedding, lace trimming the bottom and top edges will be appropriate.