Bloomers are an integral part of the costume for the performance of oriental dances. It is not only customary to perform in them, but also to wear them for rehearsals and trainings. Light flowing fabric allows the teacher of oriental dance to track the correctness of the exercises and dance elements. And to make harem pants with your own hands will not be difficult for those who are "friends" with a thread and a needle.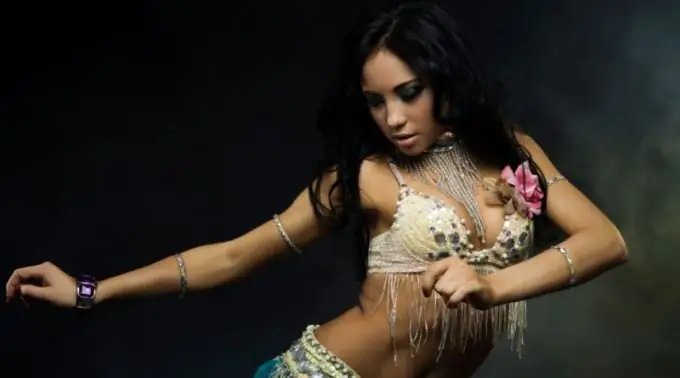 It is necessary
- the cloth;
- sewing accessories.
Instructions
Step 1
Choose a lightweight fabric (crepe silk, silk, fine satin, or fine crepsatin). If you plan to tie a loincloth over the trousers, you can also use translucent fabrics, such as chiffon.
Step 2
Take measurements. Measure the circumference of the waist, hips, ankles, the height of the seat and the length of the finished product with a measuring tape. Add 25-30 cm to the measurement of the length of the product (10-15 cm will be needed to form a beautiful overlap of trousers, 5-10 cm each for the design of the belt and hem of the trousers).
Step 3
To correctly measure your seat height, sit in a chair and measure the distance between the front and back of your waistband across your groin.
Step 4
Calculate the amount of fabric you need. On average, with a fabric width of one and a half meters, you will need 1 meter 20-25 cm.
Step 5
Build a pattern according to the measurements taken. The leg width will be calculated as three-quarters of the hip girth, and the seat width will be a quarter of the above measurement.
Step 6
Fold the fabric in two layers with the right side inward. Use tailor's pins to pin the pattern onto the fabric. Draw a pattern with chalk or pencil, add one and a half centimeters for the allowances for the side and internal seams. Cut out the parts of the trousers with scissors.
Step 7
Since the fabrics offered for sewing harem pants are loose enough, overlock all the edges of the garment parts. Sweep the corresponding parts together and machine with a fine stitch. A large stitch will "beat" the fabric and ruin the look of the finished trousers.
Step 8
Sew a double hem stitch along the edge of the waistband and along the bottom of the leg of the garment. Insert elastic bands into the resulting strips, with a length corresponding to the extended state of the waist and ankles. Sew the edges of the elastic bands firmly.
Step 9
In the side seams of the trousers, make cuts at a distance of 20-25 cm from the level of the waist. The length of the cuts can vary from 40 to 50 cm. The harem pants are ready.