Knitted hats don't go out of style. They are practical and comfortable, suitable for people of any age. Having picked up the color and yarn, you can knit an original or simple hat and bring joy to your beloved man. If you don't have enough skill, you can knit a simple model.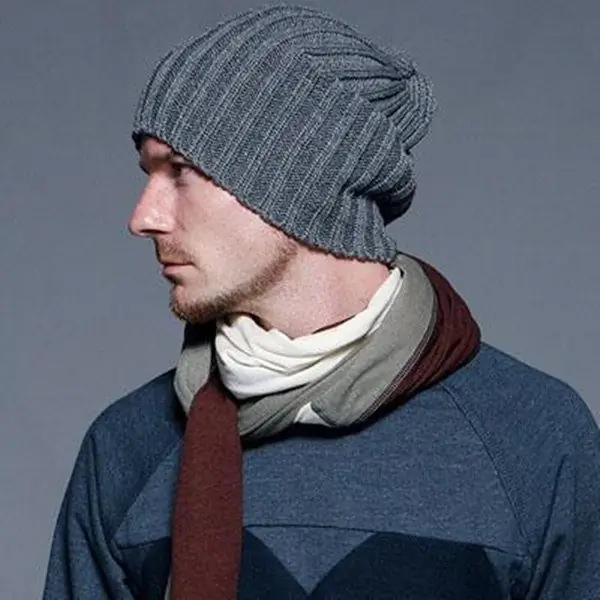 It is necessary
A set of knitting needles (2pcs), yarn, tape measure, thick needle with a longitudinal eye
Instructions
Step 1
Determine the required number of loops. Measure the circumference of your head with a tape measure. Run the tape down the middle of your forehead, across the top of your ears and the back of your head. Tie a 10 x 10 cm sample. Lay it on a table and cover with a damp cloth. Apply a warm iron to the sample so that it barely touches the fabric. After drying the sample, calculate the required number of loops for the cap. Cast on the required number of loops, taking into account 2 hem (one on each side). The height of the hat is calculated as the distance from the eyebrows to the crown of the head minus 7 cm. Knit it without changing the number of loops.
Step 2
Decrease loops. To evenly decrease the loops, divide all the loops of the canvas into equal parts and mark the beginning of each part with a thread of a contrasting color. For example, for 98 stitches on the needles, this will be 12 parts. Knit each loop marked with colored thread together with the previous adjacent loop. Decrease one row 10 times. Next, subtract 2 loops together in the front rows of the canvas. There will remain 10 loops, which are pulled together with a working thread. Cut the working thread with the expectation of the subsequent sewing of the connecting seam.
Step 3
Thread the needle and secure the tied loops. Join the edges of the canvas. Align them so that both edges start and end together. Turn inside out, straighten the crown and connecting seam. Wrap the hat in a damp, but not wet, clean cloth for 30 minutes. Unscrew the hat and shake it - your product is ready.
Step 4
You can knit a winter hat without a joining seam. In this case, the ability to knit on four knitting needles will come in handy. Select a knitting pattern for 4 knitting needles. The difference with knitting on 2 knitting needles is that the required number of loops is equally distributed on each of the four knitting needles. Knit in a circle. At first, knitting is obtained in the form of a stocking, but after decreasing the loops, the product takes the desired shape. Pull off the remaining loops on the top of the cap, fasten them on the seamy side and the work is finished.