A basket or a bouquet of sweets is a spectacular and original gift. It can be purchased at a flower or pastry shop; it is much more interesting to create a composition yourself. Choosing chocolates, thinking through designs and creating beautiful flowers will allow you to fully show your creativity and at the same time save good money.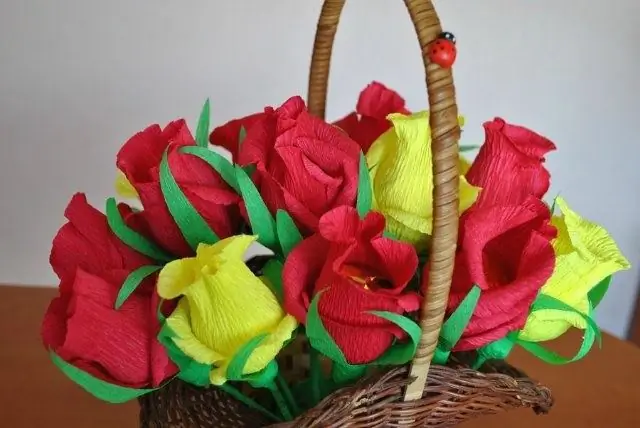 It is necessary
- candy;
- basket;
- wire;
- floristic sponge;
- stationery knife;
- corrugated paper of different colors;
- transparent wrapping paper or tulle;
- nippers;
- scissors;
- Double-sided tape;
- packing tape;
- foil;
- glue gun;
- additional decorative elements.
Instructions
Step 1
Decide which composition interests you. For an anniversary or wedding, a large round basket in a classic or romantic style will do. For a small gift, create a mini arrangement in a small round or square basket. Such a product will perfectly fit into the interior. Flowers with long stems laid in an oval braid also look spectacular.
Step 2
Buy matching candy. Usually, round or domed products in shiny wrappers are used for compositions. Small elongated candies are also suitable, they successfully imitate pistils in flowers. If the candies are not too pretty, get multi-colored foil to wrap them.
Step 3
Think over the design and color scheme of the composition. Usually no more than 3 colors are combined in it. There are exceptions, but the multicolor should look harmonious. Sketch on paper, this is especially important for beginners. Calculate the required amount of consumables, it depends on the number of flowers in the bouquet. If desired, artificial flowers can be supplemented with live plants, fruits, toys and other accessories can be put in a basket.
Step 4
Start with one of the simplest options - a small poppy gift basket. Find a square braid without a handle. Place a floristic sponge for artificial plants in it, it will serve as a basis and will allow you to fix the flowers well. Use a sharp utility knife to trim the sponge to size. Attach it to the bottom of the basket with a few drops of glue or double-sided tape.
Step 5
Start creating flowers. Wrap the truffle candy with golden or silver foil and tie it to the stiff wire stem with narrow paper tape or tape. Another mounting option is a drop of glue from a glue gun. Cut 4 large, rounded petals out of red corrugated paper. Remember them with your hands so that the petals look natural.
Step 6
Wrap some of the stem under the candy with narrow double-sided tape. Attach the petals so that they fit one on top of the other. Cut a narrow strip of green corrugated paper, wrap it tightly around the wire stalk, and secure with glue. Make the required number of flowers and strengthen them by sticking into the sponge glued to the inside of the basket.
Step 7
Cut small squares out of green tulle or clear wrap. Fold them in pairs, roll them up and glue them to small pieces of wire. Stick the resulting parts between the poppies, filling in the free space. Thanks to this decor, the basket will look more elegant. You can complement the composition with a pair of butterflies attached to flowers or the side of the basket. Glue a pair of acrylic rhinestones to simulate dew drops on the flower petals.