After the release of the movie "Hipsters" it became fashionable to organize themed parties in this style. Girls are especially attracted by retro dresses, bright and unusually feminine, while they can be sewn not only by a professional dressmaker, but also by a needlewoman who has basic skills in cutting and sewing.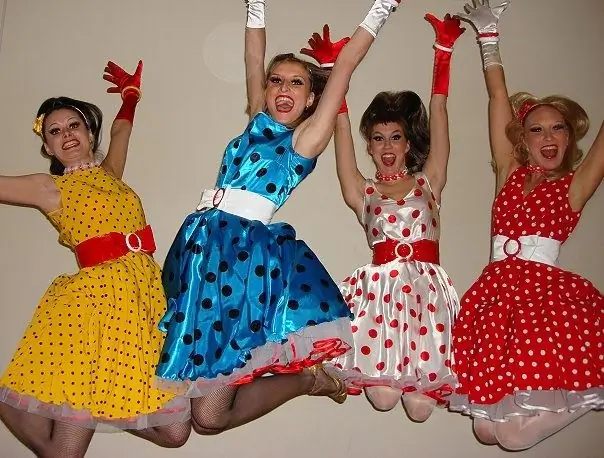 What to sew a dress in the style of dudes
Choose a bright fabric. It can be either with a floral print, in large or small peas, or in a solid color. Silk fabrics, thin knitted fabrics, sewing and cambric are suitable for sewing.
To make a fluffy skirt, you need tulle. It can be matched to the main material or made in contrast. In addition, you will need the following materials and tools;
- pattern-base of the dress;
- oblique inlay;
- hidden zipper;
- threads to match the fabric;
- wide elastic band;
- sewing accessories.
How to make a pattern
To build patterns, use the dress's pattern. Cut off the back and front detail along the waist line. Increase the neckline and shoulder line.
The skirt pattern can be built directly on the fabric. Fold the fabric 4 times. In the corner, set aside the measurement of the waist circumference divided by 6. Draw an arc with this radius. From this line, lay down the measurement of the length of the skirt and draw an arc parallel to the waist line. Cut out 3-4 similar details for the petticoat from tulle.
To cut the bodice, fold the rest of the material in half with the right side inward and attach a shelf pattern to the fold, place the back template next to it. Trace the templates with tailor's chalk and cut out the parts, leaving seam allowances for all cuts.
How to sew a dress
Sew the back details along the center line to the place where the invisible zipper is sewn in. Then sew in the clasp. Stitch side and shoulder seams. Trim the armhole and neckline with a bias tape or hem.
Connect the upper cut of the sun skirt with the underside of the bodice and grind the details. Try on the dress and specify the line of the bottom of the skirt. Cut off the excess and process the cut with a bias tape.
Make a fluffy petticoat. Sew the bottom cuts of tulle details with an oblique inlay. Place the details of the skirt inside each other and sweep along the waistline. Measure out the required amount of a wide elastic band and stitch it to the upper edge of the petticoat, pulling slightly.
Accentuate your waist with a wide belt in a contrasting color. Large bright beads, plastic clips and pumps to match the belt will complement the look and make it harmonious.