White make-up can be the basis of your original outfit for a costume party or theatrical performance. To make a splash among those around you, you need to think over your costume in advance and get high-quality makeup. Means for drawing a new "face" can be either purchased or made by hand. It is important to apply makeup correctly and be sure to use hypoallergenic high-quality dyes - then they will not only make your image unique, but also will not bring any health problems.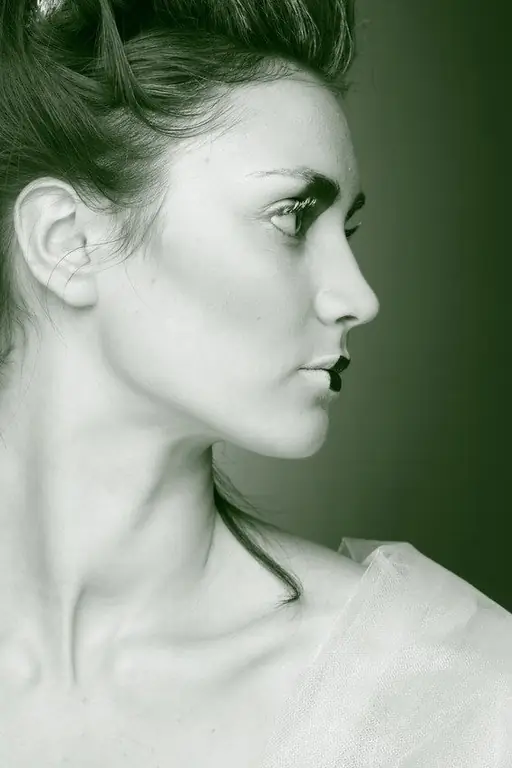 It is necessary
- theatrical or children's makeup;
- fat (interior pork or liquid paraffin);
- gouache;
- cream or petroleum jelly;
- glass container;
- brush or cotton swab;
- sponge;
- paper;
- powder;
- cotton wool;
- soap;
- make-up remover or wet wipes;
- other makeup products to your taste (blush, eyeliner, lipstick, etc.).
Instructions
Step 1
Buy a quality white make-up that is harmless to the delicate skin of your face. Make your purchase only in reputable stores so as not to run into a fake. It is recommended to go to retail outlets with goods for children or special theatrical supplies.
Step 2
Try to prepare makeup, which will be similar in composition to theatrical (it is thicker); or to "cinematic" (that is, more liquid). The basis of the "theatrical" make-up will be fresh interior pork fat. For "cinematic" vaseline oil is well suited.
Step 3
It is recommended to use children's (and therefore non-toxic) white gouache as a dye. Mix the grease and paint in a glass bowl, rubbing the ingredients thoroughly in small portions.
Step 4
Try the effect of the ready-made makeup on the skin of the elbow or in the area behind the ears - if after applying the product you do not experience severe irritation, then you can fearlessly use a decorative product.
Step 5
Thoroughly cleanse your face and apply a hypoallergenic cream, preferably for children. You can also use petroleum jelly. This will additionally protect your face from the possible negative effects of makeup.
Step 6
Draw the outlines of the future "face" by grabbing the white mixture with a cotton swab or thin soft brush.
Step 7
Start applying white makeup on top, gradually moving to the lower part of the face. Do this with a clean compact powder sponge or a strip of clean paper rolled up several times. Use your fingertips to pat and stroke occasionally.
Step 8
Draw the details of the "face" using blush, eyeliner, lipstick, cosmetic pencil. The line of the eyebrows can be changed - for this, first stick them to the skin with thick soapy foam, lubricate with cream and powder generously.
Step 9
Carefully read the instructions on the packaging of industrial white makeup - this is necessary in order to properly remove the paint from the face after the holiday. You can simply rinse off the water-based product with warm water, remove with wet wipes or any milk (lotion) to remove makeup. And to deal with a frozen mixture mixed with fat (including homemade ones), stock up on petroleum jelly or fatty nutritious cream and cotton wool.