Coconut oil is a product that has been widely used by many women for cosmetic purposes lately. And this is not surprising, because the regular use of coconut oil can significantly prolong the youthfulness of the skin and hair.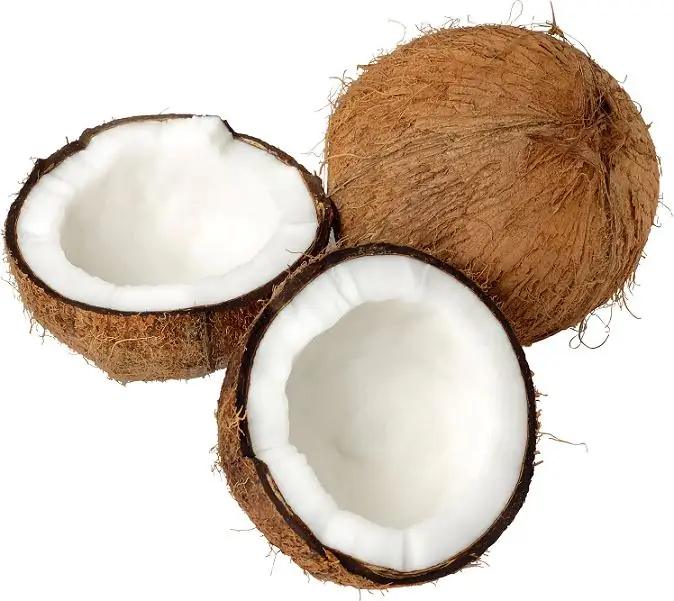 Coconut oil can be easily made at home, and it takes much less money to make than to buy, and its usefulness is several times higher than purchased.
You will need:
- coconut;
- 500 ml of pure water.
The first step is to choose a coconut. To prepare butter, it is better to take a medium-sized nut, smooth, with milk inside.
Now we need to remove the milk from the coconut. To do this, use a sharp object (for example, a knife) to pierce it in two places and pour the liquid into a mug.
The next step is breaking the coconut. To do this, you need to wrap a nut with a towel, pick up a hammer and hit it as hard as possible.
Once the above work is done, it is necessary to separate the coconut pulp from the hard shell.
Put the pieces of coconut in a blender, add about 100 ml of water and grind well to get a homogeneous thick mass.
Next, you need to heat 400 ml of water to a temperature of 50 degrees, transfer the coconut paste into it, mix and leave until it cools completely.
After the mixture has cooled, you need to strain it through cheesecloth, pour into a transparent container, such as a jar, and put in the refrigerator for three to four hours. After a while, remove the jar and use a spoon to gently remove the white solid oil that has solidified on the surface. You can store such oil for 10-12 days, and only at a temperature of four to eight degrees Celsius.