The colorful fantasy world is one of the most amazing aspects of fine art. It's a crazy mix of styles in a fairy-tale world. If you want to try to draw something like this, be prepared to take all your reserves of imagination and direct them to creativity.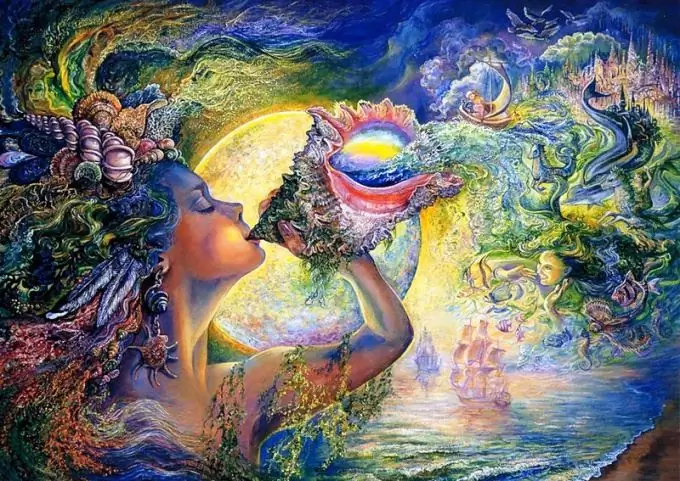 Instructions
Step 1
Detach yourself from reality. The world of fantasy, it is fabulous because it cannot exist. Therefore, the less real you contribute, the better. For inspiration, you can study the paintings of other authors, as well as the works of neo-surrealists. Although these artists cannot be unambiguously defined as drawing in the fantasy genre, their works are very impressive and give the necessary charge of "fairy" energy.
Step 2
Choose the main character. Each picture of this genre is a certain plot or frame from a living, action-filled world. Your task is to act as a director and assign the main roles. As a rule, this is a girl or a man with an unusual appearance or a fabulous creature, like a dragon. Depending on your storyline and abilities, make your choice.
Step 3
Don't just dwell on the ears. It should be noted that when talking about a fantasy heroine, many authors stop at drawing long elven ears to the diva and that's it. Don't do the same. Give your heroine uniqueness and originality. Perhaps it will be runes on the skin or butterfly wings growing on the wrists. Whatever you add to your heroine, she will already become less formulaic.
Step 4
Don't limit your imagination when painting a landscape. Everything is possible here - snails from which tulips grow or trees rooted to turtles. Or perhaps the log on which your serpent sleeps is the huge finger of an oak giant.
Step 5
Don't dwell on flora. The fauna of the fantasy world can be just as immensely diverse. Fishes with a rabbit's head jump out of a pond or a gray wolf sits on a tree stump in the clothes of a grandmother. Whatever you come up with within the framework of this picture and this creativity, it will be quite appropriate. The main thing is not to be afraid of your own ideas and embody them to the fullest.