Agree that children are very fond of puppet theater performances. They are happy to look at puppets "outdated" theatrical age in the foyer of the theater, watch the magic of animation on the stage. Try to bring this charm home, play with dolls, or better - make them with your child.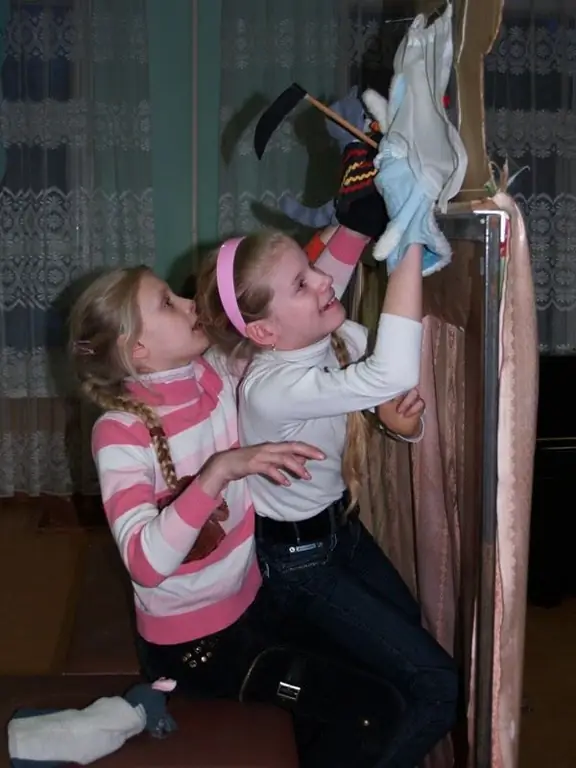 Instructions
Step 1
To make a theater doll, you need a regular glove. The index finger will be responsible for the doll's head, the thumb and pinky will be the hands of our figure. The other two fingers need to be cut and the resulting hole sewn up.
Step 2
Now let's get down to the most interesting thing - making the head of our doll. To do this, take the bottom of the white tights, preferably for children, so that the head is not too big, stuff the nose with cotton.
Step 3
Sew the so-called "head" to the gloves, so that the index finger goes into the head of our doll. Sew it on tightly to avoid dangling in different directions, remember - this part of the doll should be level.
Step 4
To make the hair of our "beauty", you need to take the yarn, wind it around the jar, pull it on one side (but not tightly), and cut it on the other. Cover the top of the head with glue and glue the hair.
Step 5
We proceed directly to the face. We will make the eyes from a dark color of small buttons. We will also make the nose from a button, preferably white. But for the lips, you need a flap of red cloth. Cut out the likeness of lips and sew to the face of our doll.
Step 6
Now you can go to the outfit. Take paper, make a dress pattern, cut it out. Take a fabric, preferably a bright color, attach a pattern to it, leave 5 mm seam allowances and cut off. Sew the dress. Then put it on a glove. For a more striking decoration, decorate the dress with braid, sequins, beads or beads of various colors. Our doll is ready!