Slime is a thick, stretchy substance that can take many forms. This is great fun for children, a way to develop fine motor skills and anti-stress for adults. You can buy it in the store or make it yourself. If you follow the instructions correctly, the resulting substance should not stick to your hands and tear.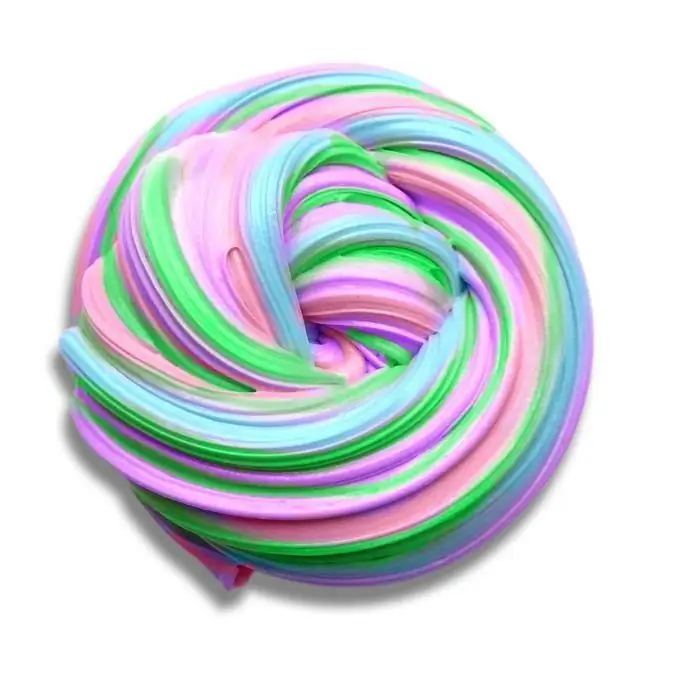 Instructions
Step 1
Mix 30 g of glue and a quarter cup of water. Food coloring can be added. Add a quarter cup of sodium tetraborate solution and mix. You need to mix thoroughly and for a long time. Watch how the consistency changes. When you can knead it with your hands, knead the mixture until it no longer sticks strongly to your fingers. Everything is ready, you can play the slime. Store it in a sachet in the refrigerator.
Step 2
Mix 7 tablespoons of skim milk with 1 tablespoon of vinegar. Stir until the mixture hardens. Just pour out the excess liquid. Add a quarter teaspoon of baking soda and knead to the consistency. You should have a slimy mass.
Step 3
Pour a small amount of water into the cornstarch until you get the consistency of honey. The approximate ratio of powder to liquid is 2: 1. But to be on the safe side, add water gradually. If the mixture is too weak, add starch. The slime should be elastic.
Step 4
Mix half a glass of PVA glue with food coloring, add 2 teaspoons of sodium tetraborate solution and mix thoroughly until a slime of the desired consistency is formed. To prevent the mixture from drying out, store it in the refrigerator.