Every girl who has dolls dreams of making the most beautiful and unusual house for them, no different from a real big house for people. Previously, doll houses were made by hand everywhere. And even now, when ready-made houses are sold in stores, you can easily make your own house for dolls out of paper and cardboard, decorating and complementing it in accordance with your own imagination.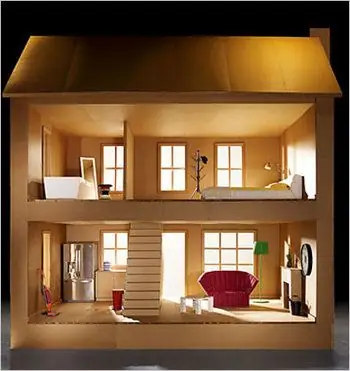 Instructions
Step 1
Prepare a cardboard box of any size, scraps of wallpaper, colored and wrapping paper, various advertising catalogs and magazines, remnants of linoleum or thick colored cardboard, trimmings of rugs, thick and thin fabric of different colors, glue, felt-tip pens, paints, various decorations - ribbons, beads, feathers, flowers. You will also need wire, matchboxes, styrofoam, and similar materials from which you can make doll furniture.
Step 2
Cut one wall from the box and cover its walls with wallpaper and colored paper. Paint the walls of the house with paints if desired. Cover the floor of the house with cardboard, the remains of carpet or linoleum.
Step 3
Cut windows with shutters in the walls of the house, and attach curtains from pieces of fabric strung on a cornice made of wire or cord to the windows from the inside. Sew tape hooks to the curtains.
Step 4
Glue doll furniture from stacked matchboxes and foam pieces. Make a table from a spool of thread with a plastic cover glued to it.
Step 5
Decorate the inside with color magazine clippings, appliques and paintings. Make lamps from plastic cream caps. Such a dollhouse will bring a lot of pleasure to any child, since at any time it can be supplemented with a variety of pieces of furniture and decor.
Step 6
If necessary, you can make additional rooms from new boxes and connect all the rooms into one large house.