A bright, cheerful pillow will become an expressive accent on the sofa in the living room and will bring a romantic mood to the bedroom, and can also act as a lovely gift.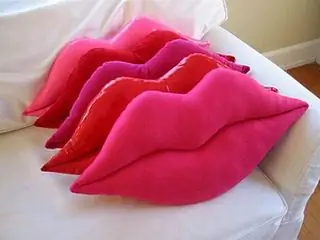 It is necessary
- template;
- scissors;
- synthetic winterizer;
- marker (chalk);
- red-pink fabric (velvet, velor, satin);
- threads to match the fabric;
Instructions
Step 1
Draw a lip pattern on paper. Transfer the pattern to the fabric, taking into account the seam allowances, cut in two pieces (front and back).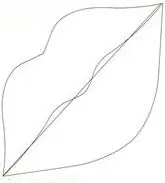 Step 2
Having folded the details with the right side inward, sew along the outer contour of the lips, leaving small areas not sewn up on the upper and lower parts of the lips for filling with padding polyester.
Turn the fabric to the right side.
Step 3
After attaching the pattern to the pillow, sew the sinuous lip line down the center. It is necessary to sew directly on the paper template. Carefully remove the pattern paper.
Fill the pillow with padding polyester, evenly distributing it over the entire surface of the upper and lower lips. Fill your lips tightly, without bumps and irregularities. Sew up the hole with a blind stitch.