Tired of cold and snow? Let's hurry up spring with this original and very simple craft!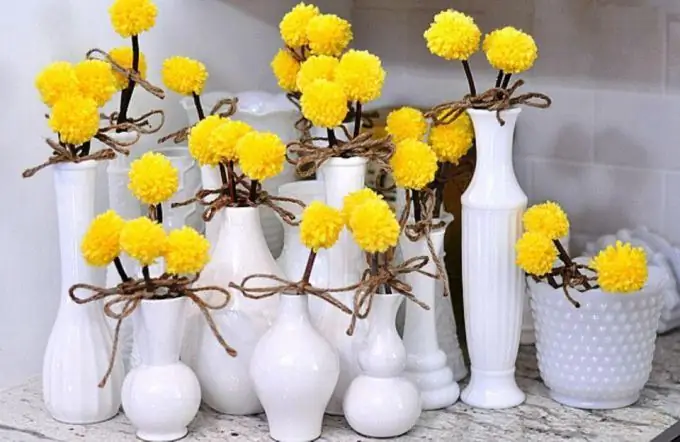 woolen, synthetic or cotton threads, scissors, dry branches, glue (any universal transparent glue will do, for example, "Moment-crystal").
to create this bouquet, it is not necessary to buy new skeins of thread, leftovers from knitting are perfect - variegated flowers will look no worse, and even more interesting than monochrome ones.
1. Cut the branches into pieces of the desired length with scissors or pruning shears (when choosing the length of future flowers, be guided by those vases that you have at home).
2. Make pom poms out of woolen thread. The diameter of the pom-poms varies from 2 to 10 cm, depending on the length of the future flowers and the thickness of the branches (the thicker, the larger the pom-poms and vice versa).
3. Glue a pom-pom to the tip of each branch.
4. Fluff up the pom-poms. Additionally, decorate the resulting "flowers" with bows made of cotton rope (you can replace it with thick linen threads, leather cord, woolen thread of brown or dark green color).
Arrange the branches with pompoms in several vases to make a whole composition on the table or cabinet shelf, mantelpiece, windowsill.
if there are many thin twigs on the branches, do not rush to cut them. Glue a small pompom onto each branch. Thus, you will not get large single flowers, but something like small bouquets.