All folk art in Japan is closely related to plants or animals. The very first origami were copied from birds, butterflies or animals. One cannot help but be amazed at the beauty of Japanese nature. Hence the attraction of people to convey their impressions with the help of paper. The figurine of a proudly flying eagle confirms this.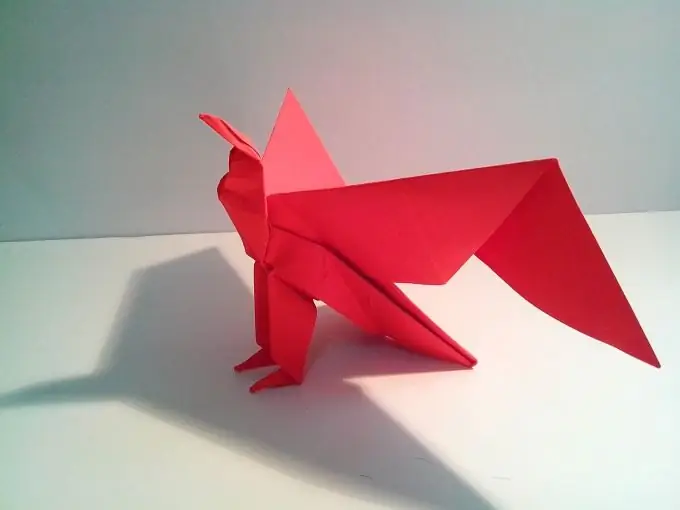 How to make a flying eagle?
To make a flying eagle, you need a square sheet of paper. A small figure of a flying eagle will not look beautiful, so you should take a square with a side of at least 25 centimeters in length. A figurine such as a flying eagle can be hung from the ceiling. Such an eagle should be made of thick non-corrugated cardboard, since thin wings made of plain paper can sag over time.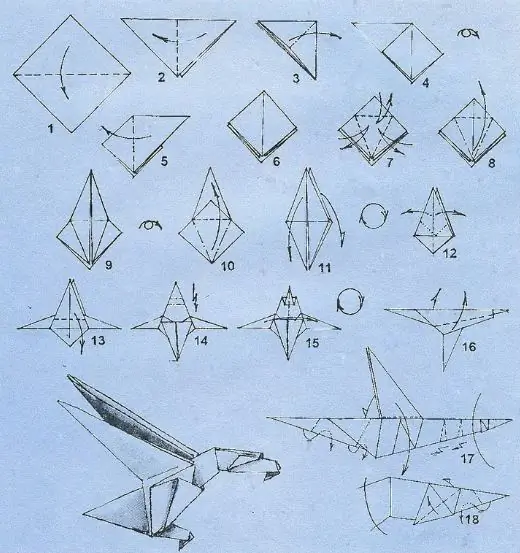 1. Draw a diagonal on a square sheet and fold the sheet along it.
2. Fold the resulting triangle in half.
3. Unfold the top of the part.
4. Turn the figurine face down.
5. Unfold the top on this side.
6. Bend the left and right corners of the workpiece towards the middle and unfold back.
7. Fold the base of the resulting triangle down, iron it with your hand to create a crease and fold back.
8. Fold the bottom up.
9. Lay the part right side up.
10. Fold the bottom up and over on this side.
11. Fold the corners at the top down and rotate the figurine 180 degrees.
12. Spread the corners that are inside the part to the sides.
13. Fold the outer corner down.
14. Zigzag the top of the part.
15. Fold the figurine in half and rotate it 90 degrees.
16. Lift the lower parts of the body of the eagle up.
17. Create the legs, neck, wings and beak of the eagle by making zigzag folds along the dashed lines.
18. Tuck the corners on the eagle's head.