Few people know how important hakama is to bushido (samurai code). This is not only a training form for practicing aikido, it symbolizes Japanese traditions, the pursuit of excellence, so it even needs to be folded correctly. And you need to do this after each workout.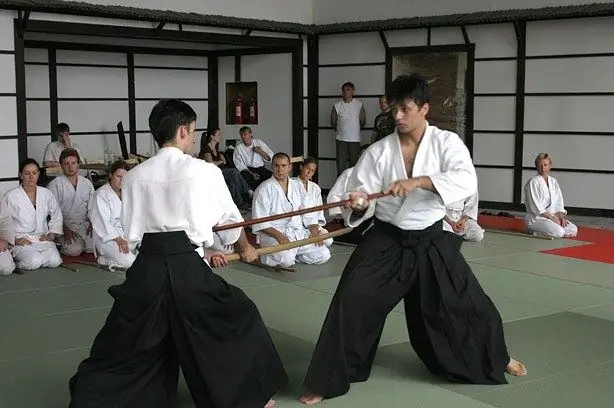 It is necessary
a flat surface on which you will fold the hakama
Instructions
Step 1
Hakama is the Japanese national dress. Including it was worn by samurai. Clothing has not only utilitarian, but also symbolic meaning. In the martial arts, this is interpreted as the seven virtues of budo. They are denoted by the seven folds of the hakama (five in front and two large in the back): benevolence, honor or justice, politeness and etiquette, wisdom, sincerity, loyalty and respect for duty. If you are serious about Aikido, you must not only observe the rules of etiquette, tradition and other virtues, but also take care of your training clothes. This can be considered one of the components of the Aikido tradition.
Step 2
Spread the hakama face down on a flat table, bed, or directly on the floor. Smooth out the back fold with your right hand. Flip the mold over so the back fold is at the bottom. Spread out the bottom of the garment and pull it over the surface to straighten any folds in the hakama a little. Fold the five front folds neatly so that they lie straight.
Step 3
On both sides, fold the edges of the hakama towards the middle. Roll the lower part lengthwise three times and place the bundle so that the upper part of the hakama is towards you. Spread out the ends of the belt (ties).
Step 4
Fold the front hakama strings (longer) in half, and then in a quarter, cross them in the center. Tie a shorter string on one side at the intersection of the long strings. Then, in the same way, tie a second short string, and pull the end of it through the first knot.