Learning English can be very useful for work and career, study, travel, watching movies and TV series, and just to improve the level of education. But not everyone has the opportunity to attend expensive courses or look for tutors. You can learn the language yourself.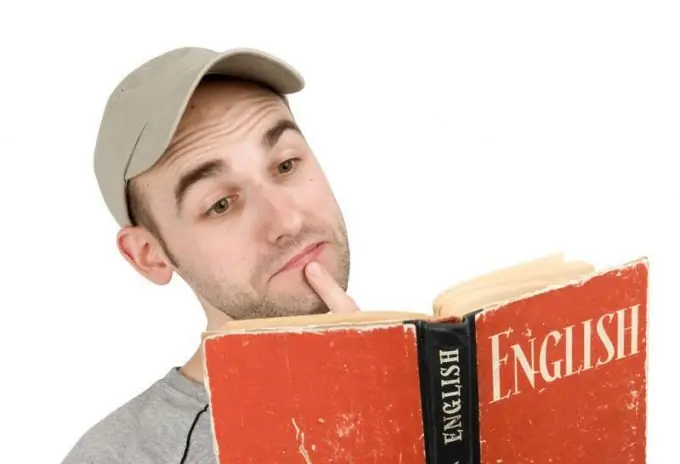 First, decide what you need to learn English for. Motivation, interest in classes, understanding of the importance of lessons and, of course, the choice of educational literature will largely depend on this. It's great if you have already studied English and know the basics of reading and pronouncing words, making sentences. Then you can choose English or American manuals, buy them or find them online and print.
Select a tutorial
The so-called authentic textbooks are much better in terms of the quality of the material presented than the manuals of Russian editions. In authentic editions of Cambridge, Oxford, Longman, Macmillan there is an accessible form of material presentation, colorful illustrations, understandable even without a Russian translation of instructions, excellent recordings of dialogues in English. However, if you doubt that you will be able to deal with the assignments without a teacher, you can purchase English self-study guides with Russian instructions in them.
Regularity and variety
In learning a language, you need to adhere to constancy and occupy yourself with a variety of tasks: parsing new words and expressions, reading texts, listening to notes, doing grammar tasks or checking vocabulary. Textbooks are good because they can give assignments for all types of language activity, but this does not mean that you need to limit yourself to them. There is a huge amount of educational or play materials in English: songs, films, TV series, books. You can also watch foreign channels and documentaries, listen to the radio. All this should definitely be included in your study hours, because this form of learning is not only excellent language practice, but also entertainment.
Exercise at least twice a week. Even if you are unable to devote more than half an hour to a lesson, spend that time practicing short words or reading a short story rather than skipping the lesson altogether.
Start talking
Train not only listening comprehension, reading, vocabulary and grammar, but also spoken language, because language is, first of all, communication. It seems difficult to do this on your own, but it is a necessary element of the lessons. Find someone with whom you can speak English quite a bit, but regularly speak English, who will help you and correct you. Or such a person can be found to communicate on Skype through the sites of communication between foreigners and native speakers.
Once in the country of the target language, do not hesitate to communicate with the locals. Even if you cannot speak fluently and correctly, this is not scary, explain yourself as you can, help with gestures, they will understand you. Only by overcoming the embarrassment and each time starting to communicate spontaneously can you learn the language.
Find in the English language what you like to do, then learning will take place with pleasure. If you initially do not know how well you speak the language and what level materials are suitable for you, take an online test to determine your level of English proficiency.