To make a slime at home, you need a minimum amount of ingredients. In appearance and consistency, the toy for hands will not differ from similar crafts made of borax. The main feature of such a product is its not too long service life, which is limited to a few days.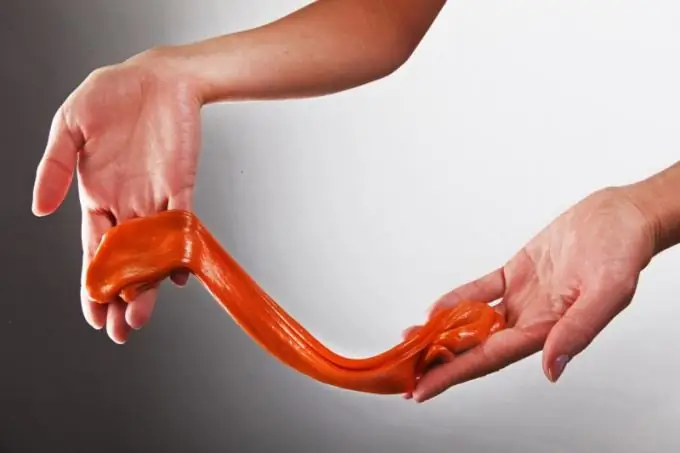 Preparation of materials
The main components for making slime at home are PVA glue, ordinary baking soda and any dyes. It is best to use dyes in this case, which are used to dye Easter eggs. Do not use paints. Otherwise, the game will turn into prolonged hand washing.
It is best to use a plastic or plastic bowl to mix the ingredients. You can combine the ingredients with a toothbrush or sushi stick, as well as with your hands, after putting on medical or rubber gloves.
Manufacturing process
Pour one fourth of a glass of room temperature water into a plastic container. Mix the contents of the plate with the same amount of PVA glue. Knead into a thick, homogeneous mass and add the required amount of food coloring. Mix all components again.
In a separate container, mix one tablespoon of baking soda and 30 ml of room temperature water. Combine the resulting mass with an adhesive base. Mix everything again.
Remove the prepared mixture from the container and knead it thoroughly with your hands. You should have a resilient material. Try to rip the slime apart and then join it into a ball. If all the proportions of the ingredients were selected correctly, then the mixture will instantly take on a uniform consistency.
Nuances
Pay attention to several very important points that must be considered when making a slime. Shake PVA glue thoroughly before use. Old glue or a substance with an expired shelf life should not be used. Slime in this case you will not succeed. The material will dry out quickly and will not have the required elasticity.
If the mixture sticks to the gloves or stick during mixing, this indicates that you have used too little baking soda. If necessary, you can repeat the addition of the water-soda mixture.
If you wish, you can make an unusual slime. As additional ingredients, for example, use a drop of essential oil and fine glitter. Play with this material carefully. Essential oil can leave marks on clothes, which can be very difficult to remove. That is why it is better to use aromatic substances in a minimal amount.
You can store the finished slime in a cool and dark place. If you notice that the toy has hardened, soak the material in warm water for a few minutes, and then knead it thoroughly with your hands. With proper storage and using the exact proportions of the ingredients, the slime will give you joy for 4-5 days.