On Valentine's Day, it is customary to give each other hearts. Most often these are postcards or souvenirs. But you can also make a heart out of products. Cookies, lollipops, a picture on a cake or pie, or even berries, sweets or shrimps just laid out on a platter. A similar decoration is appropriate for a wedding table.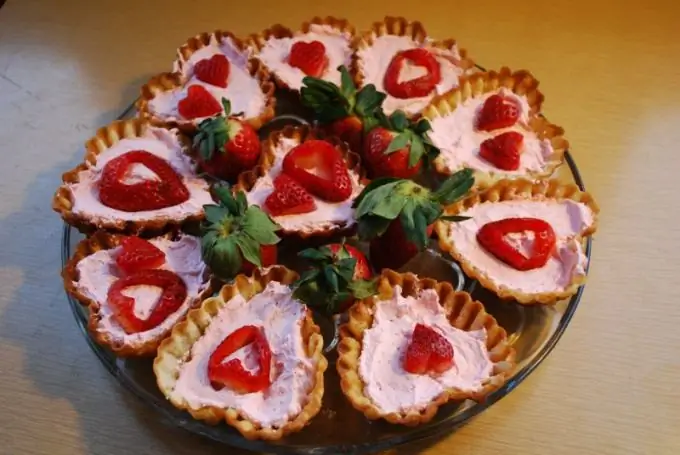 Heart shaped cookies
You can make such cookies from shortcrust pastry. You will need a mold. You can buy it at a hardware store or make it yourself from an aluminum can. Cut the bottom and lid off the jar, cut it along the seam and cut a strip 1-1.5 cm wide. Bend the strip to make a heart. Fasten the edges with a paper clip. For the test, you need:
- flour - 2 glasses;
- butter - 250 g;
- soda on the tip of a knife;
- vinegar.
You can sprinkle the cookies with sugar mixed with a little cinnamon. Knead the dough. It will turn out to be thick, it needs to be rolled into a thin layer. To prevent it from sticking, dust the table with flour. Cut the dough into a mold. Sprinkle a baking sheet with flour, spread the blanks on it, sprinkle each heart with a mixture of sugar and cinnamon. Preheat the oven to 200 ° C. Bake the cookies until tender.
Heart shaped cake
A heart-shaped cake can be made from ready-made cakes. You need to cut them very carefully. It is better to do this using a cardboard template with a very sharp knife. Make a cream from butter and condensed milk with the addition of a small amount of lemon juice. To make the cream, let the butter melt and place in a large bowl. Gradually adding condensed milk, mix the cream with a mixer or by hand. In the last step, add half a teaspoon of lemon juice. Fold the cake, alternating between cakes and cream. One layer can be made from jam. Grease the top of the cake. You can decorate with a heart made of jam or berries.
Cake decoration
The cake can be decorated with a heart using a special cream syringe. If it is not at hand, a sheet of thick paper will help you out. Roll a tight triangular bag out of it. Cut off the tip. On a homemade cake, draw a heart drawing. Color the cream intended for the heart with food coloring and put in a bag. Draw a heart. Instead of cream, you can use jam or jam. Marmalade in tubes is also suitable, in this case no syringe is needed. You can also lay out the heart from small chocolates or pieces of marmalade.
Shrimp heart
Take a large lettuce leaf. Place it on a dish. On this sheet you can lay out a heart of shrimp or mussels. When in doubt about your ability, make a template. It's just a piece of paper. Fold it in half vertically and draw a half heart. It will turn out to be symmetrical. Put it on a lettuce leaf, and arrange shrimp or mussels along the outline. Remove the template.
Heart of berries on an openwork napkin
An openwork napkin can also be cut out of paper. Fold the sheet vertically. Draw the outlines of the half-heart, and then cut it out with curly scissors. Lay out the berries or sweets along the contour so that the beautiful edges are visible. It is better to take chocolates, small, round in shape. Of the berries, strawberries or raspberries are most suitable. However, such a heart can be made from tangerine slices and apple pieces.