Shopping in stores, new acquaintances - all this leads to the fact that a lot of business cards and discount cards appear in a woman's handbag. Make your own business card holder. It will not only keep all your contacts, but also become a stylish accessory.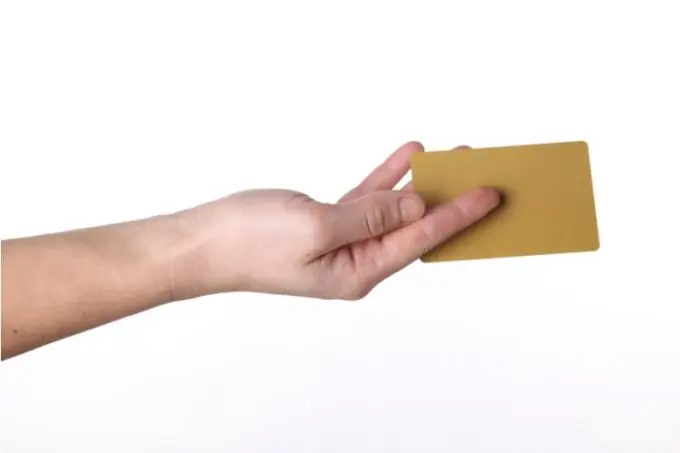 It is necessary
for option 1:
- 2 pieces of fabric 14 x 12 cm;
- 2 pieces of fabric 6 x 12 cm;
- a piece of fleece 14 x 12 cm;
- hat elastic 5 cm;
- button;
- a needle;
- threads.
For option 2:
- threads;
- hook.
For option 3:
- threads;
- hook;
- zipper closure.
Instructions
Step 1
Fold in the long sides of the two smaller pieces of fabric by about 7mm. Iron, sew by hand or machine. Set aside the details.
Step 2
Now attach one of the larger pieces of fabric to the fleece. Iron. It turned out the front side of the future card holder. Then attach small pieces of fabric to this side of the lining on both edges. Pin them to the base with pins, leaving the inner sides free. Pockets turned out.
Step 3
Turn the product over to the other side. Place the remaining piece of fabric over the fleece. Iron. Between the lining and the fabric, insert an elastic band, closed in a ring, in the middle of the short side of the product.
Step 4
Sew the layers of fabric by hand or with a machine around the perimeter of the garment and in the middle. Sew a nice button on the opposite side of the buttonhole. Decorate the finished business card holder with embroidery, sequins, flowers.
Step 5
You can also crochet the business card holder. Cast on a chain of chain stitches equal in length to 7 cm. For about 24 cm, knit the fabric with a single crochet or a single crochet.
Step 6
Finish the job. Measure 5 cm on both sides of the part. Bend these parts, attaching them to the main canvas. Pin it with pins - you get pockets. Now tie the resulting piece around the perimeter with a half-column or a single crochet.
Step 7
The pockets can also be made separately and then attached. To do this, tie a 14 cm long canvas. Then make 2 pieces 5 by 7 cm. Sew them on both sides to the base.
Step 8
To close the business card holder, on one side, attach a chain of air loops, close it into a ring. Sew a button on the opposite side. Decorate the product with embroidery, beads, etc.
Step 9
Another simple option for a business card holder. Tie a piece measuring 7 by 14 cm. From the wrong side of the middle of the long side, sew on both edges of the piece of the one-piece zipper. Turn out the business card holder. Your cards will now be safely stored.