The name of a fashionable hobby - scrapbooking - comes from the English words scrap, which translates as "clipping" and book - "book". This is a fashionable hobby for the design of memorable photo albums and family archives, that is, the main task of scrapbooking is to preserve memorable photos and gizmos for future generations.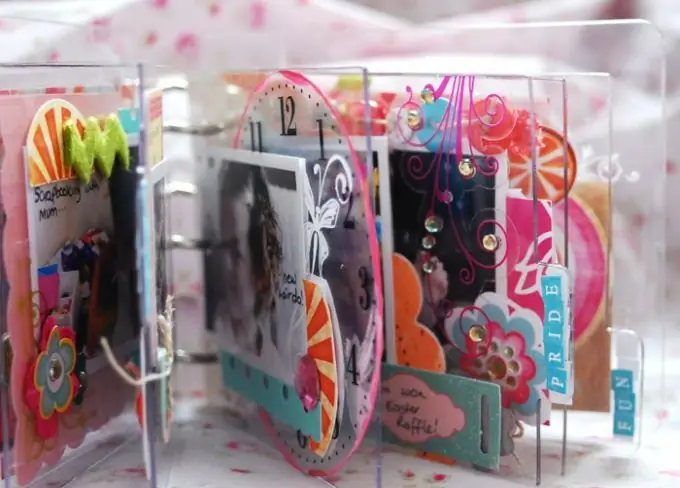 Scrapbooking materials and tools
Usually, photo albums are decorated in this way, and each of them is dedicated to a specific person or event, for example, a wedding, the birth of a child, a vacation at sea, and so on. Therefore, first you need to decide on a set of photos and purchase a photo album. Usually they use small albums of about 30x30 cm, but you can arrange any that you like the most.
You should also stock up on colored paper, and it is advisable to use paper with a different texture: smooth, embossed, corrugated, velvet, with a pearlescent or golden tint, so that the album is pleasant and interesting not only to look at it, but also to touch it.
You will also need special glue for photographs and PVA, sharp scissors, including those with a curved blade, colored pencils, paints, felt-tip pens, ink, stamps.
Stock up on a variety of cute little things. Everything can be useful in work: trimming of beautiful lace, ribbons, beads, buttons, stickers, pictures, clippings from newspapers and magazines, dried leaves and flowers, and so on. Much can be found in specialized craft departments and stationery stores.
Digital scrapbooking
With the development of new technologies, more and more people store their photographs electronically on a computer, on flash drives or other media. In this regard, a whole direction has appeared in scrapbooking, which has a number of advantages and disadvantages in comparison with the usual one.
There is only one drawback, in digital scrapbooking, the charm of a hand-made and loving thing is lost, there is no pleasant tactile sensation from viewing a scrapbook.
To design a photo, you need programs such as Corel Draw or Adobe Photoshop. With their help it is possible to change the size, color and style of the photo. In addition, there is no need to spend a lot on ribbons, buttons, bows and expensive photo albums.
In addition, the main elements of the collage can be changed countless times and achieve the best option, and this can be done at any time when it is convenient for you. An important advantage is that there is no need to clean the desktop after work, wash paint and glue, and put everything in its place.