It is not difficult to create a knitted swimsuit with your own hands, especially for those who crochet. It is necessary to stock up on materials, tools, pick up a diagram or model. Crocheted split swimsuit can be made from different threads and decorated to your liking.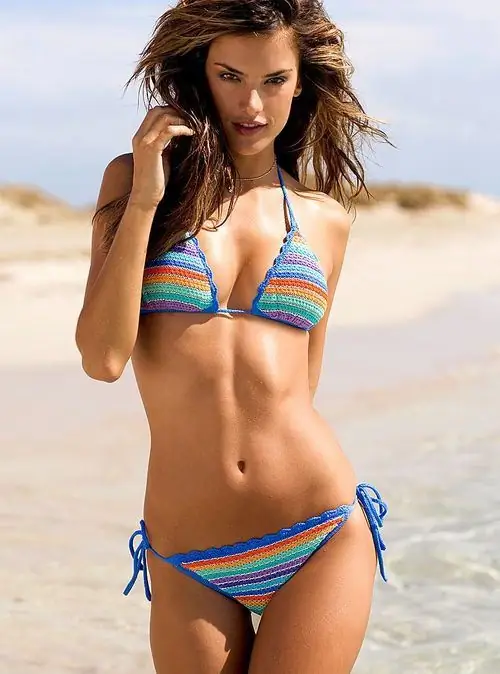 It is necessary
Material selection
Many do not like synthetics, so they prefer cotton threads. You can also knit a swimsuit from them, but its shape will not hold. In this case, you need to reinforce all the edges with a linen elastic. If you prefer a compromise option, then the elastane thread in the yarn will provide good shape retention without loss of comfort. For our 44 size model, you will need yarn, the density of which is about 350 m per 100 g. This yarn will require 150-170 grams. Also prepare the lining fabric.
Tool selection
The presented model is crocheted No. 1, 5. A larger hook number will not allow you to knit a swimsuit tightly enough. All crocheted swimwear must be lined.
Instructions
Step 1
The fabric of the leotard cup is knitted using one of the patterns.
- Triangles.
- Rectangle with pointed or rounded top.
- Rectangle with a fan (for very large breasts).
- Strapless rectangle (both cups in one piece, like a mini-top).
Step 2
Stop the choice on the second option if it agrees with the model you like. The width of the cup at the base (bottom edge) should be 14 cm. The beginning of the symmetrical decrease of the loops should be started by tying 7 cm of the canvas from the bottom edge. The total cup height should be 18 cm.
Step 3
Tie the two cups together. Make the straps from a linen gum, crocheting it along the entire required length. Make the side ties, 40 cm long, from a chain of air loops. Connect the cups by tying them along the bottom edge with single crochet posts.
Step 4
Swim trunks (bikini), start knitting from the top of the front. Knit the melts according to the pattern as a solid piece 44 cm long. Decrease and add loops only along the edges of the piece. Connect the sides by knitting single crochet. Reinforce the edges of the swimming trunks with an elastic band. Finally, tie all the edges of the leotard with a row of single crochets.
Step 5
Decorate the resulting ready-made swimsuit in any way that your imagination tells you - from beads and sequins to braid and lace.