Headphones make our life much easier: firstly, you can enjoy your favorite music without disturbing others (especially important when a small child is at home, and one of the parents wants to listen to music), and secondly, you can do things so that they do not interfere with extraneous sounds … Broken headphones are always a nuisance, especially if they are urgently needed, so you can try to quickly solder them.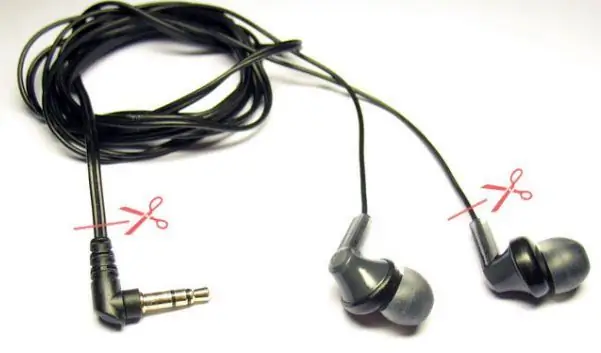 It is necessary
Headphones, soldering iron, wire cutters, knife, epoxy glue, synthetic threads, rinsing alcohol
Instructions
Step 1
Locate the damage to your headphones. If the sound in the "ears" first rustles, and then disappears altogether, it means that a rupture has occurred in the place where the cord is bent. To restore the function of the headphones, cut the cable below the cut and re-solder it.
Step 2
If you have a complete lack of sound in your headphones, and the ringing indicates that the winding is intact, it means that the channel is clogged. Thus, only the earplugs are malfunctioning, the mesh of which is contaminated with earwax. The repair consists in washing the mesh with alcohol after disassembling the earphone.
Step 3
If in one "ear" there is a different timbre of reproduction than in the other, there is a rattling and crackling sound, then the problem lies in the damage to the membrane. In this case, the headphones must be opened, the membrane straightened and cleaned if required, but these measures are only temporary, and ultimately the membrane will have to be changed.