A straw hat is an indispensable headdress in the summer heat, especially on the beach. With the help of accessories and small details, you can create unique bows that will surely attract the attention of others. A simple way to give originality to the image is to decorate a straw hat with your own hands, choosing decorative elements in the same style.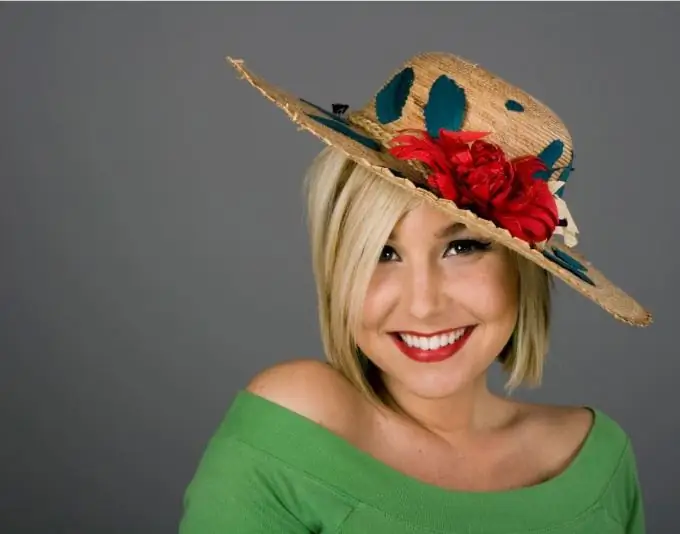 Fabric flower
A sure-fire way to gracefully decorate a straw hat and turn a standard store item into an exclusive accessory is to make a fabric flower and attach it to the bottom of the crown. The material can be nylon of a suitable tone. The best prototype of the future decoration is a real, artificial or painted flower, which must be carefully examined and a sketch drawn on paper: petals, sepals, if desired, a few leaves.
Next, you should cut out all the elements from the nylon and very carefully, quickly scorch the edges of each blank with matches - the flower from the fabric will look natural. It is recommended to stick a needle into the eraser and prick sepals and petals on it in the desired sequence, following the sketch, then sew the parts together.
Braid for hat
To make the decoration for a straw hat look stylish and in harmony with the headdress, you can weave a decorative accordion braid from a straw for a flower. Needlework material - not crumpled rye, wheat or oat stalks with cut off knees. The straw must be poured with boiling water and kept in water in a closed container for 24 hours, then removed, shaken and gently flattened.
Two straws must be attached to one another at right angles, press down on the junction and bend the lower stem upwards. Next, there are successive overlaps of the stems in the form of an accordion tape of the required length. If one weaving element is over, a new one is laid on top of it. The ends of the finished product should be trimmed and the braid should be slightly stretched. Now you can decorate a straw hat with it, tying the bottom of the crown. A flower made of fabric is attached to the braid using a small pin.