Such a snowman will not melt if you put it on the kettle, but it will create a New Year's mood in the house.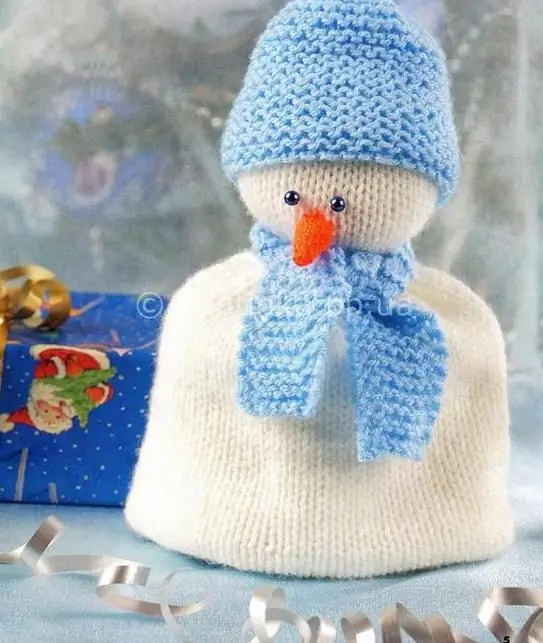 To tie such a snowman, which is at the same time a heating pad for a kettle, does not require any special skills. Anyone who knows how to knit can knit such a miracle. But before you knit it, decide on the size of this toy. They depend on the size of your teapot and your knitting density.
Measure your teapot with a measuring tape to find out how wide the cover can fit on it (measure by running the tape from the tip of the teapot spout to the most convex point of the handle). Add 2 to 3 cm for a loose fit. The obtained measurement result is the width of the web that needs to be tied.
We knit a rectangle (with the width that we got during measurement) and sew it into a pipe. If you wish, you can knit it on round knitting needles so that there is no side seam. The height of the canvas should be twice the height of the kettle.
Draw a strong thread along the edge of the top of the pipe and pull it off. Put filler in the snowman's head (cotton wool, finely chopped scraps of fabric left after sewing or holofiber in balls), sew the fabric at neck level and pull off the thread. The snowman is ready, it remains to decorate it.
To decorate the snowman, knit a narrow straight fabric (about 20 cm long, about 2 cm wide) with stocking knitting. Tie the resulting "scarf" around the snowman's neck. On the head of a snowman, you can sew a hat made of woolen fabric (the base of the hat is a rectangle), knit a hat with stocking knitting or tie a scarf. We make eyes from beads or small buttons. We knit the nose with a crochet, but it is easier to roll a small bun out of thick paper, glue it and, having coated it on the outside with glue, wrap it with orange thread.
By the way, such a snowman will be a wonderful New Year's souvenir for family or friends.