In summer, on the beach, perhaps, you cannot do without three things: a beautiful swimsuit, a roomy bag and, of course, a panama hat, so as not to bake your head. Such a hat can be sewn, knitted, but it is much easier and more beautiful to make it with a crochet hook. You will need very little time for this lesson, and the result will not be long in coming.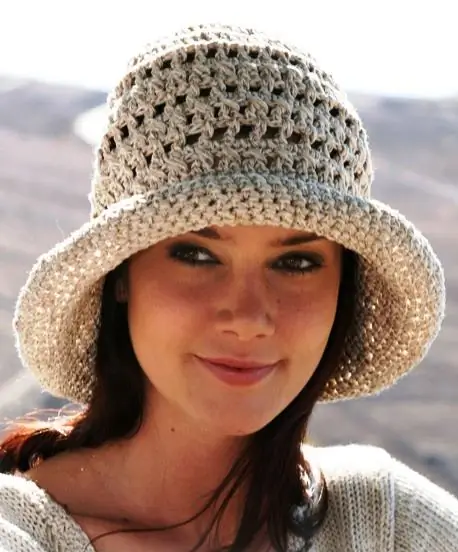 It is necessary
100 g of cotton yarn of medium thickness, hook No. 3, 5
Instructions
Step 1
In order to crochet a panama hat, you need to be able to knit air loops, single crochet, connecting post and "rachiy step". To create an air loop, insert the hook into the first loop, throw the thread over it and pull it through the loop. For a single crochet, insert the hook behind the back loop of the previous row and draw a new loop, grab the thread and knit two loops together. Knit the connecting solbik like this. Insert the hook into the loop of the chain, grab the thread and pull it through the loop of the chain and the loop on the hook. Work in the same way as the single crochet, but in the opposite direction, from left to right.
Step 2
Start knitting from the top of your head. Tie a chain of four stitches. Close it with one connecting post into a ring. Next, work in single crochet rounds for approximately nine rows. From the ninth to the eighteenth row, knit without increments. Try on the resulting cap on the head to knit to the required depth of the cap.
Step 3
For margins, add as follows: one air lift loop, 35 single crochets for the back half, then add one loop (two single crochets for the back half from one loop of the previous row). Next, knit 35 more single crochets, then one connecting post. The result is 74 stitches.
Step 4
In the next row, make increments every five columns. That is, knit one lifting air loop, then five single crochets and add one loop, repeat eleven times. You should have 86 stitches. Knit the next row without adding. And then add increments every four loops. A row without additions and knit the last row with a "crustacean step". Your Panama is ready. Decorate it with bead or bugle embroidery. Sew on multi-colored buttons or crocheted flower.
Step 5
Moisten the finished hat and let dry. If you have knitted a hat made of thin threads, you can shape it by starching it. To do this, dilute a tablespoon of starch in a glass of water, add more water so that the liquid covers the product. Put your panama hat in it and hold it for a few minutes. Place a damp item on a mold (for example, a three-liter jar) and let dry.