A lot can be done from the leftover thread. Including a decorative wreath for any holiday.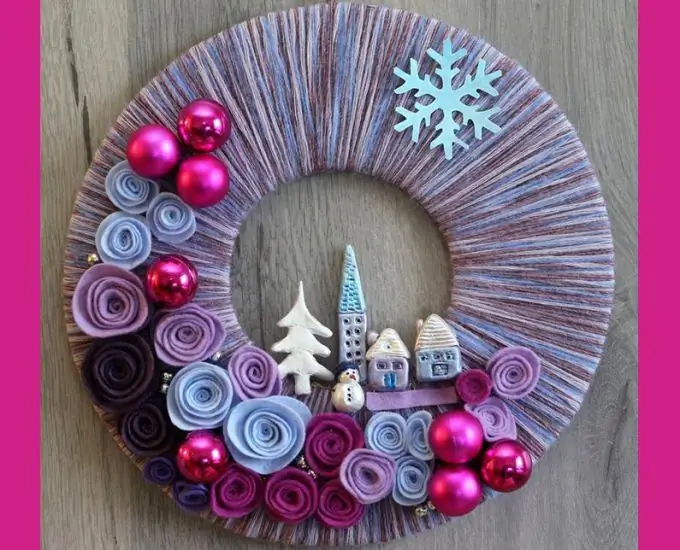 hard cardboard, leftover threads (better than woolen, thicker, but cotton ones are also suitable, except, of course, ordinary sewing ones), glue, finishing materials (felt, multi-colored paper, beads and beads, satin and nylon ribbons, small Christmas balls, etc.) …
1. Cut a donut-shaped base out of hard cardboard. If the resulting wreath base does not hold its shape well, make several identical blanks and glue them.
2. Wrap the thread around the base of the wreath. Try to keep the threads as tight as possible to each other. Mask any gaps with additional rows of threads. Tie the ends of the threads on the back of the wreath.
3. Decorate the wreath according to your taste and season. For the New Year holidays, such a wreath can be trimmed with paper snowflakes, felt Christmas trees, and small New Year's toys. A small thematic composition of salted dough or fimo would be very appropriate (if you don't know how to sculpt, you can find something similar in art stores). Glue the dried leaves of trees and shrubs onto the autumn wreath (or cut the leaves out of yellow, red and green felt). Artificial flowers made of different materials (felt, foamiran, nylon, cotton, paper, threads, beads), pom-poms, bows are also suitable for decorating a wreath.
Useful advice: of course, the base of the wreath can be made not flat, but three-dimensional, in the form of a torus.