With the help of the crochet you can knit a cute pencil holder-dog. To do this, you will need a little leftover yarn, and a plastic bottle will serve as a frame.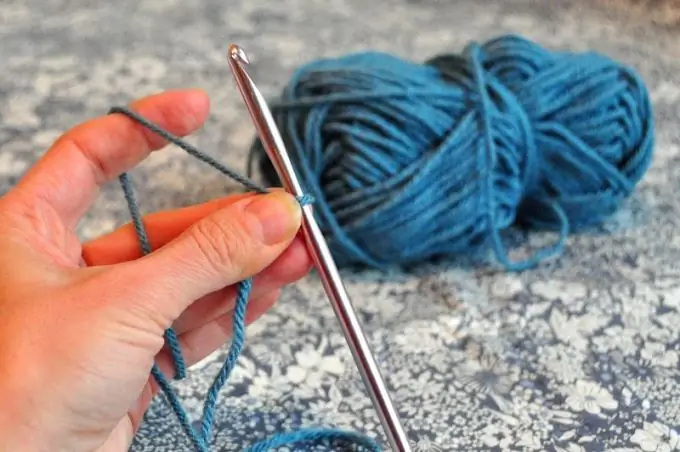 It is necessary
- plastic bottle;
- 50 g of thick yarn;
- some white yarn;
- some red yarn;
- a piece of fluffy fur;
- black button;
- ready-made eyes for toys;
- hook number 3.
Instructions
Step 1
Cut 1/2 part from a 0.5 liter plastic bottle. This will be the frame for the pencil holder and the template according to which the main part will need to be connected.
Step 2
Crochet a circle of thick yarn with a diameter equal to the base of the bottle. Then continue to knit in a circle, but no increments. Insert the frame into the yarn piece and continue to knit in single crochet stitches until needed. In the last row, reduce the number of columns, so the knitting will be fixed on the bottle and its cut will be hidden.
Step 3
Knit 2 ball-shaped legs from the yarn of the basic shade. Stuff them with padding polyester or cotton wool and sew to the bottom of the pencil holder.
Step 4
Tie an oval using white thread. Cast on a chain of five chain stitches and knit in a circle, making increments before the first and last stitches of the row. Sew the resulting piece in the middle.
Step 5
Tie a tongue using red thread. Cast on one chain stitch. Work 2 single crochets. Turn and knit 3 stitches in the next row. Sew the tongue to the bottom of the muzzle patch.
Step 6
Sew a black button in the middle of the top side of the lining, as a dog's nose, and glue ready-made eyes for toys (you can buy them at any craft store).
Step 7
From a piece of fluffy fur, cut 2 equal ovals and sew them on the sides of the pencil holder. The cute dog is ready.