Turkish carnation is popular due to its unpretentious cultivation. Florists love her for long flowering. It is often used to decorate various front gardens.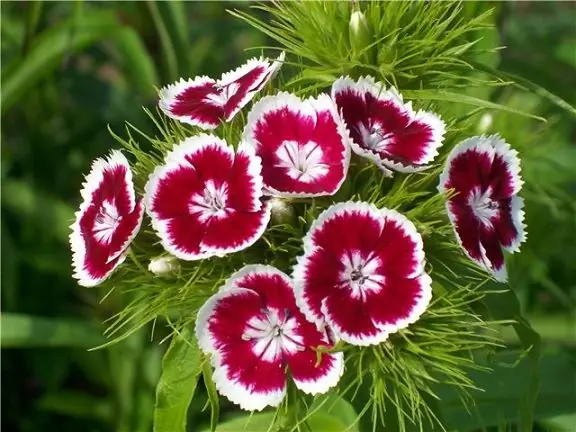 Features of growing Turkish carnations
The Turkish carnation is a perennial plant. In the first year, a rosette of leaves forms in her, in the second year, flower stalks grow, rosettes of leaves grow, which will begin to bloom next year.
It is recommended to grow carnations as a biennial, but experienced flower growers remove only peduncles after flowering, the rosettes themselves are covered with fir branches for wintering, so the life of the bush can be extended for a couple of years.
Choose a sunny spot for planting carnations. For full flowering, you need fertile soil. Turkish cloves should be watered regularly (twice a week). It is necessary to direct the stream of water at the root so as not to wet the outlet and flowers.
Reproduction of the Turkish carnation
The flower propagates in two ways - by cuttings and by seeds. The end of spring is the best time to sow cloves. It is better to start grafting in early spring.
A couple of weeks before planting the seeds, prepare the soil: dig up, water, cover with foil. Then make grooves 1, 5 cm deep, water them. Plant the seeds shallowly, cover with earth, tamp. Watering is no longer required. Cover with a thick cloth until sprouts appear (about two weeks).
For propagation by cuttings, cut them in June, root them in the ground, spray from time to time. After three weeks, they will take root, in the fall they can be transplanted to a permanent place.
When properly grown, Turkish carnations pleases with their abundant flowering for one summer month.